Ratko Mladic arrested in Serbia
Foreign Secretary William Hague congratulates Serbian authorities on arrest of Ratko Mladic, the former Chief of Staff of the Bosnian Serb Army.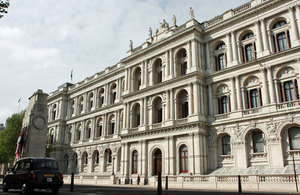 Foreign Secretary William Hague said:
"The arrest of Ratko Mladic is a historic moment for a region that was torn apart by the appalling wars of the 1990s. Ratko Mladic stands accused of terrible crimes committed in Bosnia-Herzegovina and it is right that he will now be brought to face international justice. Today our thoughts are with the relatives of those killed during the siege of Sarajevo and genocide in Srebrenica.
We congratulate the Serbian authorities on this arrest, which is evidence of the Serbian Government's commitment to co-operation with the International Criminal Tribunal for the Former Yugoslavia.
"We now look forward to the rapid transfer of Rakto Mladic to The Hague so that the charges against him can be heard in an international court of law. Our sympathies are with all those who lost loved ones during those conflicts. Today should mark the beginning of a new chapter for the countries of Western Balkans."
Published 26 May 2011