News story
Rainbow flag flown with pride
The rainbow flag of the lesbian, gay, bisexual and transgender community has today (28 June 2013) been hoisted outside Eland House.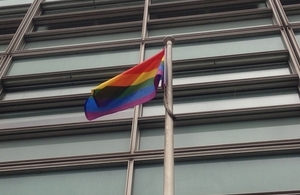 The rainbow flag is being flown outside the London offices of the Department for Communities and Local Government to recognise London Pride week, a festival of celebration and recognition of the role played by the LGBT community in Britain. The flag is also being flown by other government departments including the Cabinet Office and the Foreign and Commonwealth Office.
This year's LGBT+ Community Pride Parade, on Saturday June 29th, includes a record number of civil servants marching together for the first time to promote the service as a great place to work for lesbian, gay, bisexual and transgendered staff and the good work the service does for that community.
The parade tours Oxford Street, Oxford Circus, Regent Street and Trafalgar Square before ending in Whitehall. 150 groups will bring approximately 10,000 marchers, roller-skaters, dancers and singers into the heart of the capital.
Communities Secretary Eric Pickles said:
We are stronger as a society when we celebrate the ties that bind us together. I want to send a strong signal - we should fly our flags with pride.

The lesbian, gay, bisexual and transgender community plays an important role in our society and I'm delighted the government and my department can recognise that by flying the rainbow flag outside our offices this week.
Flying the rainbow flag is part of this department's efforts to raise awareness of local and national flags and joins the flags of Wessex, Middlesex and the Armed Forces Day flag that have been flown in recent months at Eland House.
The rainbow flag is among the increased number of flags that can now be flown without consent or incurring unnecessary planning fees since the government changed the rules on flag flying last year. The new rights therefore allow individuals and organisations – for example pubs - to fly the pride flag without a fee.
Further information
The rainbow flag is being flown alongside the United Kingdom's Union flag, outside the Department for Communities and Local Government in Victoria, London. It was purchased at no cost to the taxpayer.
The government has amended the law to make it easier to fly local and traditional flags without a permit from the council. See Flying flags: a plain English guide.
In line with flag flying protocol, the Union flag is flown in a superior position at all times.
Published 28 June 2013