Press release
Radioactive tracer merger cleared
The CMA has cleared Alliance's acquisition of the assets of the IBA business used to produce a radioactive tracer for cancer diagnosis.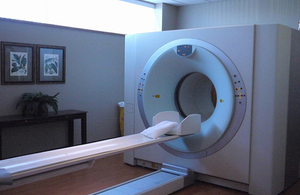 This confirms the Competition and Markets Authority's (CMA) provisional decision which was published last month and has been made by a group of independent CMA panel members (see notes for editors).
Alliance Medical Group Limited (Alliance) and IBA Molecular UK Limited (the IBA business) supply Fluorodeoxyglucose 18F (FDG-18), a radioactive tracer used in PET-CT scans which is purchased by hospitals and others who provide such scans. Due to its short radioactive half-life, an effective dose can only be given to a patient within a maximum of 8 hours following production, which limits the area which can be served by a particular production unit.
In its final report published today, the CMA states that the IBA business had been consistently loss-making for several years, its losses would have worsened and it suffered from a weak competitive position, making it likely that, without this merger, it would have ceased to produce FDG-18 and there would not have been an alternative purchaser of the business.
The Office of Fair Trading (OFT) referred the case to the Competition Commission (CC) in March 2014 following a phase 1 review, since which time the CMA has taken over the case (see notes for editors).
Notes for editors
The CMA is the UK's primary competition and consumer authority. It is an independent non-ministerial government department with responsibility for carrying out investigations into mergers, markets and the regulated industries and enforcing competition and consumer law. From 1 April 2014 it took over the functions of the CC and the competition and certain consumer functions of the OFT, as amended by the Enterprise and Regulatory Reform Act 2013.
The CMA therefore took over this case from the CC at the start of April.
All the CMA's functions in phase 2 merger inquiries are performed by inquiry groups chosen from the CMA's panel members. The appointed inquiry group are the decision makers on phase 2 inquiries.
The members of the Alliance/IBA merger group are: John Wotton (Inquiry Chair), Sarah Chambers, John Krumins and Tim Tutton.
The CMA's independent panel members come from a variety of backgrounds, including economics, law, accountancy and/or business; the membership of an inquiry group usually reflects a mix of expertise and experience (including industry experience).
Enquiries should be directed by email to Rory.Taylor@cma.gsi.gov.uk or Siobhan.Allen@cma.gsi.gov.uk or by ringing 020 3738 6798 or 020 3738 6460.
Photo above by Thirteen Of Clubs on Flickr. Used under Creative Commons, photo resized and machine brand removed.
Published 15 August 2014