Radical package unveiled to support business and promote growth
The way the government does business is about to change radically, Minister for the Cabinet Office, Francis Maude, will announce on Monday.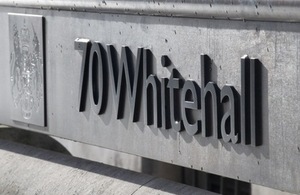 The way the government does business is about to change radically, the Minister for the Cabinet Office, Francis Maude, will announce on Monday.
Read the full speech and presentations from the day on GOV.UK.
The Cabinet Office will unveil a package of measures that will revolutionise how the government buys from the private sector, including:
publishing £50 billion of potential business online
making it 40% faster to do business with government
collaborating with businesses at a much earlier stage in the procurement process so they don't find themselves excluded from opportunities
These measures will support businesses and the voluntary sector and stimulate growth by ending the public sector's short-sighted and risk averse approach to business.
Evidence gathered through the Growth Review has uncovered how a lack of certainty about future government buying decisions has weakened the ability of supply chains to invest, tool up and prepare for competing effectively with others in the market. That reduces proper competition and means the UK taxpayer doesn't get a fair deal. Short-sighted decisions have often ignored the need to develop competitive supply chains, drive innovation and boost exports, and the government is today (20 Nov 2011) taking action to address this and build new certainty for the future.
The package unveiled on Monday will reverse the at times bureaucratic, closed and transactional UK approach and bring the UK more in line with best practice. It marks the end of the overly formal and legalistic relationships and the beginning of much longer-term and collaborative relationships with  our supply chains. The new approach will ensure the huge purchasing power of government supports the task of boosting growth, and enable the government to actively shape the UK market for the long term.
Key aspects of this new approach include:
the government will provide an open door for current and future suppliers to discuss upcoming procurement opportunities, cutting the time taken in the procurement process. In addition government  will work with industry to identify and address any key capabilities needed to meet future demand; actively helping them to remove barriers and supporting growth through spillovers that boost exports and drive innovation
details on more than £50 billion of potential business opportunities across government will be published online tomorrow (21 November 2011). The data will forecast potential contracts over £5 million, with more than 150 potential opportunities. These are in sectors such as ICT and facilities management (FM) - giving an unprecedented view into the government's expected future requirements and helping to build the confidence to invest in plants, machinery and people. This in turn means a more productive economy and more jobs
by April next year government departments will have published rolling medium term pipelines for its construction and infrastructure projects, other capital asset procurements such as pharmaceuticals and ICT, FM and other government service opportunities
the Cabinet Office will work with departments to ensure that SMEs can access the value of procurement, including where relevant encouraging or challenging prime contractors to do more, or breaking up large contracts
making it 40% faster to do business with government. All but the most complex procurement processes will be completed within 120 days from January 2012 - compared to the average of 200 days now. By engaging earlier, and more openly with business and the wider supply chain, government will be able to reduce the time taken during the procurement process and provide the certainty and visibility of the forward pipeline to unlock investment
the government will negotiate in the EU for a radical simplification of the relevant directives - Francis Maude will travel to Brussels on Monday evening to make this case
mandating that all civil servants responsible for running major procurements are trained in the government's new approach. In the wider public sector where there are thousands of 'commissioners' - we want to develop a 'Commissioning Academy' to train them. There is a need for capable, confident and courageous procurement people in the public sector. For example, this will bust myths prevalent across the public sector such as that it is against EU law to talk to suppliers - in fact, any rational business would do this to get a clearer picture of what the market can offer.
Francis Maude said:
We need to make things better for business in the UK - the current system isn't working. UK-based suppliers are finding themselves excluded, opportunities for growth are missed due to the public sector's timidity and carrying out a procurement in the UK costs over twice as much as in France. This is wrong from every point of view.

While other countries manage to settle down and develop long-term relationships with business - this country appears to have taken a rather less successful overly formal and legalistic approach, failing to think beyond the immediate contract and failing to adequately support our businesses. We look forward to working with businesses on our new approach.
The average public sector procurement currently costs around £46,000, compared to around £19,000 in France.
The measures introduced today are part of the government's wider programmes to promote efficiency, public sector reform and growth, by bringing the UK in line with best practice and ending the current short sighted approach.  Further details will be announced in the Growth Review on 29 November 2011. 
Notes to editors
Read Francis Maude's full speech on GOV.UK.
The new pipelines build on the government's commitments earlier this year to publish pipelines for public sector construction projects and the UK's wider infrastructure investment programme and expand the forward looking pipeline to other sectors to give a clearer picture of the contracting landscape across government for the lifetime of this Parliament.
This advance warning will help to give firms the confidence to invest in plant, machinery and people. And that will help create a stronger economy - and more jobs.
Once pipelines have been announced government will have a strategic dialogue with the supply base. Departments will identify areas of key supply chain capabilities required to deliver against this pipeline, in consultation with BIS and HMT.
The construction and infrastructure pipeline will be published alongside the Autumn Statement. By April next year all departments will be publishing rolling medium term pipelines for sectors including prison, probation services and pharmaceuticals.
These will be updated at least every 6 months and include a confidence rating against each project so industry can assess the likelihood of a project going ahead.
Further details will be announced in the Growth Review on 29 November 2011, alongside the Autumn Statement.
Published 20 November 2011