Press release
Public register to boost company transparency
The Prime Minister announced that details of who really owns and controls UK companies will be made publicly accessible.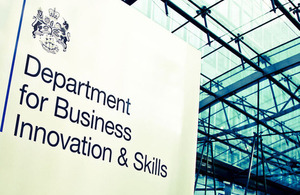 Details of who really owns and controls UK companies will be made publicly accessible, the Prime Minister announced at the Open Government Partnership summit.
The government committed to implement a central registry of company beneficial ownership information at the Lough Erne G8 Conference in June. The registry will contain information on individuals with an interest in more than 25% of a company's shares or voting rights, or who otherwise control the way it is run.
The Department for Business published details of its intention to create a registry in the 'Transparency and Trust' discussion paper in July and invited responses on whether it should be made publicly accessible.
Following this call for evidence, the government has decided the register will be made publicly accessible.
Prime Minister David Cameron said:
We need to know who really owns and controls our companies. Not just who owns them legally, but who really benefits financially from their existence.

This summer at the G8 we committed to do just that – to establish a central register of company beneficial ownership. And today I'm delighted to announce that not only is that register going to go ahead - but that it's also going to be open to the public.
Business Secretary Vince Cable said:
A stronger economy depends on investors, employees and the wider public having trust and confidence in companies and those that are running them.

We believe a public register, listing those who really own companies makes Britain a better place to invest and do business. People have a right to know who controls UK companies and greater openness will help tackle tax evasion, money laundering and other crimes.

The vast majority of companies and directors in the UK contribute productively to the economy, abide by the rules and make an enormous contribution to society. But an errant few operate in the shadows, creating ownership structures that serve to deceive. We're now shining a light on who really owns and controls companies in the UK and proudly leading the world in this initiative.
World Bank Group Vice-President Sanjay Pradhan said:
Prime Minister David Cameron is absolutely right. Corporate transparency is essential to reduce tax evasion, eliminate corruption and ensure citizens get the services they deserve. We applaud the UK's leadership and encourage other countries to take actions toward a similar outcome.

This is exactly the kind of initiative that can greatly accelerate development. It complements well our efforts on financial market integrity, asset recovery and corporate transparency. For instance, the UK registry will feed into the Open Company Data Index we sponsor, which looks aggregates open corporate registry information and generates company network maps. Together these tools can help curb corruption, illicit financial flows and enable businesses to compete on a level-playing field.
In respect of the information to be held by the company and Companies House, and how it should be updated, BIS will set out further detail in its formal response to the discussion paper. This will be published in early 2014.
The government will however potentially use as a model the disclosure regime that currently applies in relation to disclosure of information on company shareholders. This would mean that companies would hold information on the names and addresses of their beneficial owners and details of their interest in the company. Companies House would hold – and make publicly accessible – the names of the beneficial owners and details of their interest in the company.
Limited exemptions from public disclosure will be permitted – for example, in cases where it is necessary to protect individuals whose safety might be put at risk.
In its government response, BIS will also set out its plans on other proposals from the 'Transparency and Trust' discussion paper including:
to abolish bearer shares – ie shares whose ownership is completely opaque
to tackle the use of corporate directors – one company as a director of another
to address situations where a front director is registered at Companies House, but the control lies concealed elsewhere
Notes to editors
The UK's Action Plan agreed at the G8 summit: 'UK Action Plan to Prevent Misuse of Companies and Legal Arrangements'

The Open Government Partnership (OGP) is a multilateral initiative that aims to secure concrete commitments from governments to promote transparency, empower citizens, fight corruption, and harness new technologies to strengthen governance. In the spirit of multi-stakeholder collaboration, OGP is overseen by a Steering Committee including representatives of governments and civil society organizations. See details of the Open Government Partnership summit: London Summit 2013.

There are around 350 individuals who each hold more than 100 directorships in the UK, with cases of people holding up to 1,000.

The government's economic policy objective is to achieve 'strong, sustainable and balanced growth that is more evenly shared across the country and between industries'. It set 4 ambitions in the 'Plan for Growth', published at Budget 2011:
to create the most competitive tax system in the G20
to make the UK the best place in Europe to start, finance and grow a business
to encourage investment and exports as a route to a more balanced economy
to create a more educated workforce that is the most flexible in Europe
Work is underway across government to achieve these ambitions, including progress on more than 250 measures as part of the Growth Review. Developing an Industrial Strategy gives new impetus to this work by providing businesses, investors and the public with more clarity about the long-term direction in which the government wants the economy to travel.
Published 31 October 2013