Press release
Protecting the UK from 'fake food'
The Intellectual Property Office is to host an international conference on 20 September to set out the UK's plans to tackle 'fake food'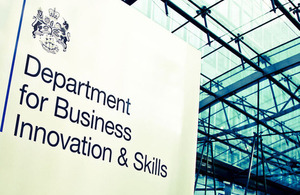 Fake food poses a huge threat to the health of consumers and can prove as profitable for organised crime as it can damage the UK economy. As part of the UK's response the Intellectual Property Office (IPO) will host an international conference next week (20 September) to set out the UK's plans to support the Interpol/Europol Operation Opson, set up in 2011 to tackle the problem of 'fake food'.
The event will bring together more than 30 countries and key enforcement agencies to focus on how to tackle the growing issue of fake and substandard food and drink which covers both 'fake' branding of products as well foodstuffs not subject to proper public health controls.
The conference will also focus on lessons learned over the last year. A co-ordinated period of action in 2012, targeting illicit food and drink, netted nearly 250 tonnes of illegal and hazardous food from everyday products such as coffee and olive oil to luxury goods like truffles and caviar. This operation also made more around 100 arrests as it targeted the organised crime networks behind this illegal trade.
The conference will have a speaker from the Czech Republic police force who will talk about the case of methanol poisoning last year, which claimed more than 40 lives in the Czech Republic and Poland and led to a country-wide ban on the sale of alcohol above 20%. The UK's Food Standards Agency will speak about the horsemeat scandal and the impact this had on enforcement action and strengthening the safeguards in Britain.
Intellectual Property Minister, Lord Younger, said:
"Bringing together key enforcement and intelligence agencies from Europe and further afield, is a key part in tackling the growing issue of fake food.
"It is not just about cracking down on crime that affects the livelihoods of legitimate businesses, but fake food and drink can pose a real threat to public health.
"Joined up intelligence and enforcement action, like this conference and the OPSON operations, are vital to protect both consumers and businesses."
Operation Opson started in 2011 with the involvement of 10 countries, which nearly trebled to 29 countries in 2012. Its enforcement activities, co-ordinated by Interpol and Europol, seized illicit good worth millions of euros over the past 2 years.
Notes for editors
Opson is a joint INTERPOL-Europol operation targeting fake and substandard food and drink and the organised crime networks behind this illicit trade. Launched in 2011 with a network of 10 countries, the operation tripled in size to involve 29 countries in 2012.

The UK's Intellectual Property Office has played a key intelligence and co-ordination role, supporting enforcement activities in the UK and across the world. Building on the success of Operation Opson so far, the IPO is hosting an international conference in Newport, Wales, next Friday 20 September, where it will set out plans to support future enforcement activity. More information on the coordinating role the IPO plays, both in Operation Opson and other activities can be found at http://www.ipo.gov.uk/ipenforce/ipenforce-crime.htm

One of the speakers at the conference will be Capt. Jan Drapal from the Czech Republic police, who will talk about the methanol poisoning case which led to 47 deaths and 134 non-fatal poisonings in the Czech Republic and Poland in September 2012, and has led to 80 people being prosecuted.

The government's economic policy objective is to achieve 'strong, sustainable and balanced growth that is more evenly shared across the country and between industries'. It set 4 ambitions in the 'Plan for Growth', published at Budget 2011:
to create the most competitive tax system in the G20
to make the UK the best place in Europe to start, finance and grow a business
to encourage investment and exports as a route to a more balanced economy
to create a more educated workforce that is the most flexible in Europe.
Work is underway across government to achieve these ambitions, including progress on more than 250 measures as part of the Growth Review. Developing an Industrial Strategy gives new impetus to this work by providing businesses, investors and the public with more clarity about the long-term direction in which the government wants the economy to travel.
Published 12 September 2013