Prime Minister welcomes Qatari gas deal
Prime Minister David Cameron has welcomed the announcement of a £2 billion gas deal between Qatar and British Gas parent company Centrica.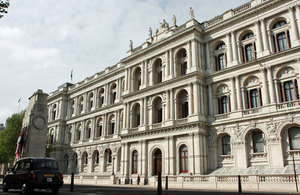 The agreement will supply enough gas to meet the needs of around 2.5 million UK households.
Speaking in Qatar this morning, the Prime Minister said the deal was "good for Britain, good for our energy security, good for jobs, and good for economic growth."
Centrica chief executive Sam Laidlaw, who is accompanying David Cameron as part of his trade delegation, said he hoped it would mark the start of a longer term relationship between the two countries.
Earlier today, the Prime Minister held bilateral talks with Qatari Prime Minister Hamad bin Jassim bin Jabr al Thani on a range of issues including the importance of reform, a shared economic and cultural agenda and regional security.
In a press conference, the two leaders also announced plans for the first UK-Qatar Trade and Investment Forum which aims to double bilateral trade to £4.4 billion a year by 2015.
The Prime Minister said:
"I am determined to connect Britain to the countries that will matter in the future, and that means your country of Qatar. My visit here, building on the Emir's very successful state visit to Britain last year, is I hope the next step in this process."
Later he took part in a PM Direct event at Qatar University where he answered questions from students on a range of issues including the current situation in Libya. He said there should be "consequences" for the Libyan regime if it continued to use "appalling levels of violence" against its own people.
He added that he would like to see a UN Security Council resolution to send "a very clear warning" to Colonel Gaddafi and the Libyan armed forces that what they were doing was "wrong and against the law". He also insisted the Government was doing "everything we can" to help British nationals with the provision of transport to move people out of the country.
Earlier this week, the Prime Minister travelled to Egypt for talks with the interim administration before heading to Kuwait where he gave a speech urging the Middle East to seize the "moment of opportunity" to push for political and economic reform.
Published 23 February 2011