News story
PM and Chancellor Merkel statements in Berlin: 20 July 2016
Prime Minister Theresa May held a press conference with the German Chancellor Merkel following their meeting in Berlin.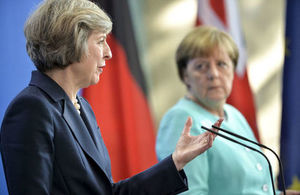 Prime Minister
May I start by offering my condolences to all those affected by the terrible attack on the train in Wurzburg on Monday. And my thoughts and prayers are with all those affected by the attacks.

Chancellor, thank you for inviting me to Berlin today.

I am delighted to be here, on my first international visit as Prime Minister, just a week since I took office. It underlines my personal commitment to building a strong and constructive partnership between ourselves, Chancellor. A partnership that works for the benefit of people here in Germany and people back home in Britain too.

And obviously, this is the first visit to Germany of a British Prime Minister since the British people took the decision to leave the European Union. I have been clear that Brexit means Brexit and the United Kingdom is going to make a success of it.

But I also want to be clear, here today and across Europe in the weeks ahead, that we are not walking away from our European friends. Britain will remain an outward-looking country.

And Germany will remain a vital partner and a special friend for us. We have centuries of shared history, our languages and culture are deeply intertwined and in recent decades we have developed a strong alliance. This was reflected in Her Majesty the Queen's historic state visit here just over a year ago.

It is in that constructive spirit that I have come here today, to lay the foundations for a strong relationship in the months and years ahead. I want Britain to continue to work with our European partners to boost trade and economic growth and to tackle the shared challenges we face.

These are issues that we have already touched on in our meeting and which I look forward to discussing further over dinner. I would like to say a few words on each.

First, the economic ties between our countries.

We are both leaders who want to drive stable economic growth and who believe in making sure that everyone shares in the benefits.

Germany is the UK's second largest trading partner worldwide and the second most important source of foreign investment into Britain. Here in Germany, there are 1,300 British companies employing more than 220,000 people.

Now of course, the nature of our relationship is going to change as the UK leaves the EU but we both want to maintain the closest possible economic relationship between our countries. And I believe that is what German and British businesses want too.

So it is good that we start from such a strong foundation and a position where both our countries believe in liberal markets and free trade. These should be the principles that guide us in the discussions ahead.

Second, we must continue to work together on the global challenges we face.

From standing up for the sovereignty and territorial integrity of Ukraine to helping the millions suffering in Syria, Germany and the United Kingdom have often been a strong and united voice around the world.

We must further that co-operation. Our countries have already agreed to deepen our bilateral military partnership and to do more together to tackle organised crime.

And we will continue to work together to stem the flow of migrants across the Aegean and the Mediterranean.

And in light of the terrorist attacks in Nice and Wurzburg, we must strengthen our efforts to defeat Daesh and to stand up for the values that we share.

Of course, as we continue to work together we must also negotiate the UK's successful exit from the European Union. This will take time. And it will require serious and detailed work.

But as long as we are a member of the EU we will respect the rights and obligations of EU membership.

But I want to work with Chancellor Merkel and my colleagues around the European Council in a constructive spirit to make this a sensible and orderly departure.

All of us will need time to prepare for these negotiations and the United Kingdom will not invoke Article 50 until our objectives are clear.

That is why I have said already that this will not happen before the end of this year. I understand this timescale will not please everyone but I think it is important to provide clarity on that now.

We should strive for a solution which respects the decision of British voters, but also respects the interests of our European partners. Together, we should maximise the opportunities for both the UK and the EU.

To conclude, I said recently that the United Kingdom should not be defined exclusively by the process of our withdrawal from the EU. Nor should it define our relationships with countries around the world.

Of course, there are challenges ahead and much to be worked through, but I do believe that upon leaving the European Union, the United Kingdom can forge strong and successful relationships with European countries – and that those relationships can benefit not just Britain but our partners too.

As we embark on that new chapter, I look forward to working with you, Chancellor, to develop that successful partnership.
Chancellor Merkel
This week we have had the attack on the train in Wurzburg. I would like to thank the doctors, and I would like to thank the ambulance workers and the medical training staff that looked after the people. The Federal Ministry of the Interior informed me constantly, briefing me on the state of affairs, and the minister has briefed you already on what we know about the background of this deed, but there is quite a lot yet that needs to be explored, that needs to be clarified, as to the background of this perpetrator. I have every confidence in the Federal Prosecutor's Office and the relevant authorities that we will see to it that clarity is brought about as regards this case.

Today, it is too early to say anything definitive, but we will do everything we can in order to prevent any form of violent extremism, detect the perpetrators in time, and if possible, prevent it. But with that, today, our thoughts are with the relatives and with the victims of this terrible deed.

But ladies and gentlemen, I am delighted to be able to welcome the Prime Minister, and I am delighted that she was able to come here so early during her term of office. I think it clearly underlines that our countries are united by close bonds. We have already started talks. I'm looking forward to a very good relationship, and let me say that irrespective of the decision that the people in the United Kingdom have taken to leave the European Union, we are linked by very close bonds of friendship, of partnership. Our 2 countries have always acted on a basis of very clear and firm and similar convictions. We share the same values. And this in many ways also determines how we deal with present challenges; we're partners in NATO, we will both of us be in attendance at the G20 meeting in China, we're members of G7, and obviously this will determine the relationship and also the spirit in which we will carry out the negotiations on the United Kingdom leaving the European Union.

Irrespective of this process, and independently of this process of leaving the European Union, we want to also continue to foster our relations on the economic field, and in the political field, because this is after all in our mutual interests. Germany and Britain have always co-operated very closely within the European Union, and I very much hope that this is the spirit with which we will continue to pursue those negotiations.

Right from the start, I said after the referendum was decided that it is now up to the British government to define how it wishes to see its future relationship with the European Union, and to then also pursue the following steps, particularly as regards the process leading up to invoking Article 50. Only then will the proper negotiations start. The treaties of the European Union are very clear on this today; we will discuss the discussion as it presents itself now. We will also discuss what is our relevance in the connection with Article 50 without engaging in any formal or informal talks and negotiations. But we will also obviously discuss what is on the international agenda; we will, as I said, go to the G20 meeting in China. We will also be hosting the G20 meeting next year here in Germany; we will work closely with Britain then. We will talk about the situation of refugees, we will talk about the situation in Turkey, and also the relationship between Russia and Ukraine.

I am very much looking forward to this first exchange of views. I would very much like to welcome the Prime Minister yet again. And I promise you that from the German side, we will certainly stand up for our interests, just as Britain does it for its own citizens as well. But we will do this in the spirit of friendship and on the basis of many shared convictions.
Question
Madam Prime Minister, Madam Chancellor, the EU wants to prevent Britain from doing cherry-picking, as they say. The first signals from London seem to hint at that, trying to maintain advantages and reducing disadvantages, for example, in freedom of labour and giving a boost to the single market. Is there no scenario to actually ward off Brexit?

And on Turkey, the EU says a country that reintroduces the death penalty cannot become a member of the European Union, but can such a country be a partner in a pact with the European Union on the refugees?
Chancellor Merkel
Well, I think it is absolutely understandable that only a few days after the referendum, only a few days after a new government was formed in Britain, the government will have to take a moment first and try to seek to identify its interests. And I think it's actually to our advantage to have the United Kingdom define its negotiating stance in great detail and clarity and possible to also clearly outline how it sees its future relationship with the European Union. These have to be parallel processes if you like. You cannot completely cut off the bonds and then after a long winding negotiated process come up with how one sees the future relationship. So a good negotiating process and a sensible and constructive one I think is in all of our interests.

So we will wait and for the moment when the United Kingdom invokes this and applies for this and then we will put our guidelines on the table as to how we see the future relationship. I think, as the Prime Minister has said quite repeatedly, we have to look at realities and the reality of the day is that 48% of the citizens of the United Kingdom voted for it but after all – voted for remaining but 52% voted for leaving the European Union. And I think that that is the reality of the day that we have to look at.

Now on the refugee pact this EU-Turkey agreement has at its core after all the aim of combatting human trafficking. The fact that people had to confide in traffickers that were ruthless, that were unscrupulous, they paid a lot of money for being smuggled. So our responsibility is to turning this illegal migration into legal migration. This illegality has to be stopped. Right now it's working but what this also means is that part and parcel of this agreement is also that on a voluntary basis humanitarian contingents of refugees come in a legal way from Turkey to the European Union. What has always been the basis of this agreement and will remain so is that we have security for the people who are sent back to Turkey and we're monitoring this very closely. The UNHCR has been a very important partner in this question and so far I have no indication whatsoever of Turkey not abiding by the agreement. I think at any rate that it's a mutual interest that we don't allow people to drown in the Mediterranean Sea every day and that illegality reigns over the Aegean Sea.

There is criticism I know, and we have been very vocal in our criticism. There were many who came out strongly against this military coup. Their rights have to be respected and we will be very vigilant. And I already in a telephone call to the Turkish President was clear in voicing my concerns.
Question
Thank you, Prime Minister, at the centre of your talks with Angela Merkel, no doubt will be how you balance EU trade with immigration. Is it worth sacrificing some of our prosperity to have more control on immigration? And Chancellor Merkel, is it remotely realistic for the UK to expect to keep its trading rights and introduce tighter limits on immigration? And if I may, first impressions matter. You've just met for the first time, what do you make of each other?
Prime Minister
Well, it's very clear to me that one of the messages that the British people gave in their vote that the UK should leave the European Union was that they wanted to see control brought into the movement of people from the European Union into the United Kingdom. And so that of course will be one of the issues that we will be looking at and that we as a government will deliver on for people.

But I'm also clear that we want to get the right deal in trade in goods and services for the UK. I think that's important for us. I think actually it's important for other countries in the European Union who are trading with the UK as well, that we do that. Of course this will be part of our discussions and decisions that as we take forward, as I've said. We will be taking some time in the UK to determine the principles and our objectives before we trigger that formal process of negotiation.

And you asked how we'd got on in our first meeting. I think what is very important is we have 2 women here who have got on and had a very constructive discussion, 2 women who, if I may say so, I think get on with the job and both want to deliver the best possible results for the people of the UK and the people of Germany.
Chancellor Merkel
Exactly. I can only subscribe to that and underline it in full. The people in the United Kingdom in their majority voted for leaving the European Union. That is a mandate that the new government has been given. We have not asked the United Kingdom to leave the Union. We respect the decision that has been taken. So we have to know exactly what shape and form this future relationship of the people of Britain with the European Union is to be. We are absolutely certain that we will have good financial relations and we very gladly pick up where you left off, Prime Minister, in saying the UK after all remains part of Europe, if not of the Union. That means that we have certain missions also to fulfil with the rest of the world but it's not as if the British Prime Minister would in the future sit then at the table of the European Council. We will have to find other ways and means to conduct our bilateral relations.

Now, we're listening to the United Kingdom, we're listening to Britain, what it actually wants and then we will give the right response to that. But it doesn't really make any sense at all to now engage in speculation. If that happens or that happens or not and then 27 countries will give you different messages as depends on their relative view of the matter. This cannot be in our interest and it cannot be in the British interest either because what we want and that's what the British Prime Minister assured us of is we don't want any turbulence. We don't want too much disturbance. We don't want too much uncertainty. There has to be trust built that in mutual respect in the spirit of mutual friendship we will pursue negotiations and pursue a certain goal. And pursuing a certain goal means we are absolutely sure what the exact goal of Britain will be. You have to contend with this but we too have to then contend with this as EU of the 27. How can we successfully contend with this situation so that each side who can get the best, if you like, out of the British decision as it were.
Question
Prime Minister, can you explain to us in Germany what made you appoint Boris Johnson to Foreign Secretary? Why are you putting, as it were to put it in football terms, a player on the pitch who doesn't actually want to play? And how do you think Madam Chancellor you will be able to negotiate with such a Foreign Secretary?
Prime Minister
It would be dangerous for a British Prime Minister to talk about football in Germany. This is not something on which we have perhaps quite as good a record as the Germans do. But secondly I have appointed a team of ministers who will take forward the position of the British government. We're very clear that as a British government and as a Prime Minister we will be looking to build good relations with all the European member states and that's why I'm here to start constructive discussions. We want to build on a very positive partnership that the UK has had with Germany and those positive relations will underpin everything that I do as Prime Minister and everything that my ministers do across the whole UK government.
Chancellor Merkel
Well, first of all no matter with whom you negotiate on the British side, you have an experienced country here with diplomatic skills. Negotiations with British governments have always been quite arduous ones, uphill battles, but always interesting – tactical, technically intelligent negotiations. And we're trying to work at eye level with you and be experienced, competitive partners. We have a long-term experience with this, after all. And when we negotiated the terms within the European Union, let us think of, for example, the financial perspective, these have never been all that easy negotiations. But we've always come to a successful conclusion.
On the Foreign Secretary, while the first meeting of Foreign Ministers has already occurred among the 28, I think what came out of that was that was – there is a long list of very serious foreign policy problems and the Prime Minister just pointed out; be it the agreement EU-Turkey; be it the question of the plight of the people in Syria; the question of territorial integrity in Syria. We have our hands full with all of that and I take it that the British Foreign Secretary, in good cooperation with all of the other 27 Foreign Ministers, will work on these issues and the reputation of Europe in many ways hinges on the contribution that we can give to the solution of such complicated problems. After all, hundreds of thousands of lives depend on those.
Question
I just wondered if I could ask you, first of all, Prime Minister, are you still committed to the target of tens of thousands of migrants into the UK every year and, if so, are you prepared to limit EU migration before Brexit is complete? And to Chancellor Merkel, are you content with Mrs May's suggestion that Article 50 won't be triggered until next year and, indeed, there are some people in the UK who say that there is no rush; maybe we don't even have to trigger Article 50 at all. Is there a penalty for the UK if this process drags on?
Prime Minister
First of all, on the issue of net migration into the United Kingdom, I've always been clear that the reason that we looked to set that number in relation to net migration was because we want to bring net migration into the UK down to sustainable levels. Sustainable levels is, we believe, in the tens of thousands. Now, it may take some time to get there. Obviously, there are new factors now coming into play because, as I indicated in response to a question earlier, one of the messages from the Brexit vote was the importance of bringing some control into the movement of people from the European Union into the UK. So that's another factor that we will be looking at in relation to looking at the net migration for the future. But it's about sustainable levels and I believe those sustainable levels are in the tens of thousands.
Chancellor Merkel
During the negotiations on the UK leaving the European Union, we will abide by the letter and spirit of the treaties and the treaties say the country is going to table an application and it doesn't say when exactly this application has to be tabled. The language says the application has to be tabled and then one follows the guidelines as they are decided in the European Council. So that's what's in the Treaty. We have to wait for this application and to then have an idea how the United Kingdom envisages this leaving; envisages the future relationship with the Union.

No one wants things to be up in the air and I don't think the British citizens want that, nor do the European member states want that. But I think we all have an interest in this matter being carefully prepared, in positions being clearly defined and delineated, and I think it's absolutely necessary to have a certain period of time to prepare for that.

And during this time, the United Kingdom, even during the negotiations later on, on leaving, as the Prime Minister stated, they are still members of the European Union, with full rights and obligations. And it's most important, if we look at all the matters and challenges that arise all over the world that we have to deal with, it's most important to have Britain as a partner. And we will do so, and then later on negotiate on Britain's leaving.
Published 21 July 2016