News story
PM statement following Nice attack: 15 July 2016
Prime Minister Theresa May made a statement following the Bastille Day attack in Nice.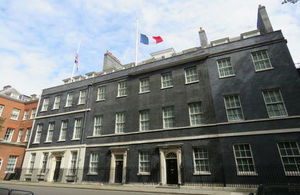 The Prime Minister Theresa May made a statement following the attack in Nice yesterday.
She said:
I am shocked and saddened by the horrifying attack in Nice last night.

Our hearts go out to the French people, and to all those who have lost loved ones or been injured.

While the full picture is still emerging, it seems that at least 80 people are feared dead and many others have been injured.

These were innocent victims enjoying a national celebration with their friends and families.

We are working urgently to establish whether any British nationals were caught up in the attack.

Our ambassador is travelling to Nice today with consular staff and they will be doing all they can to help anyone affected.

I have asked my Deputy National Security Adviser to chair a COBR meeting of senior officials to review what we know and what we can do to help.

And I will speak to President Hollande today and make clear that the United Kingdom stands shoulder to shoulder with France today as we have done so often in the past.

If, as we fear, this was a terrorist attack then we must redouble our efforts to defeat these brutal murderers who want to destroy our way of life.

We must work with France and our partners around the world to stand up for our values and for our freedom.
The Union Flag and the Tricolour are flying at half-mast over 10 Downing Street as a mark of respect following the attack.
Published 15 July 2016