Press release
Prime Minister announces £50,000 to Text Santa on #GivingTuesday
On Giving Tuesday the government will give £50,000 to Text Santa and Cabinet members are becoming Dementia Friends.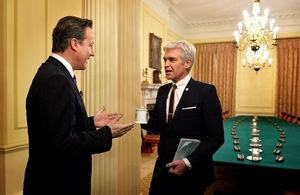 #GivingTuesday aims to encourage people, charities and businesses to donate time, money or their voice to help a good cause. It follows Black Friday and Cyber Monday as an opportunity for everyone to give something back. Cabinet Office is a founding partner of Giving Tuesday UK.
Text Santa is ITV's christmas charity appeal. Speaking to Phillip Schofield, in the first live interview to be conducted in the Cabinet Room at Number 10, the Prime Minister David Cameron said:
Giving Tuesday is a good moment to remember that of course Christmas is about giving to family and friends and buying gifts and the rest of it, but it's a moment also to think of others and to encourage giving.
On the government's commitment to Text Santa, the Prime Minister said:
The first 5,000 people who join up to volunteer on your site, we'll give £5 for each one of those. And the first 5,000 people that give, we will give £5 for each of those so a maximum of £50,000.
The Alzheimer's Society is 1 of the 6 charities which are benefitting from Text Santa.
The Prime Minister said:
Loneliness is such an important issue and there are so many people living alone who don't necessarily have family surviving who are there to look after them. Actually reaching out and helping other people is hugely important.

So we're doing something today: every member of the Cabinet by the end of today will be a trained Dementia Friend and that's really important because it's such a challenge in our country.

So many people have Alzheimers and other conditions. And as well as the research we need to fund, as well the improvements in the health service, we also need our communities to be more dementia friendly so that everybody knows how to handle and to help people with these conditions.
Notes to editors
For the first 5,000 people who volunteer, and the first 5,000 people who give today, the government will donate £5 to a maximum of £50,000.
Published 2 December 2014