World news story
Police conference opening
The British High Commissioner, Vicki Treadell opened a groundbreaking conference of Pacific police officers from across the Pacific.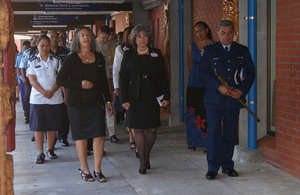 Porirua Police College is hosting the conference of 21 Senior Police Officers from 15 South Pacific countries. The officers are in New Zealand to attend a two week long course designed for future leaders in the police force. They are travelling from as far afield as Federated States of Micronesia in the northwest Pacific to the Cook Islands in the South Pacific.
A jointly funded project between NZ Police, Australian Federal Police and the UK Foreign Office, the course is designed to develop management skills and provide the tools senior officers need in leadership roles. In the UK a similar course is attended by all Police Commissioners and Deputy Police Commissioners.
The course is being run by two UK Superintendents from the British Police College in Bramshill, Hampshire. Bramshill specialises in delivering effective learning and training assistance in operational policing and police leadership throughout the world.
The course was opened by British High Commissioner, Vicki Treadell, who said:
This project is a really great example of the UK, NZ and Australia working together in the Pacific. A sound police force is an essential requirement for any democratic society.
The course will include a discussion forum where the various Pacific police service participants will discuss policing development with representatives of the Australian policing programmes, New Zealand international policing programmes and the United Kingdom's.
Published 12 March 2013