News story
PM visit to south-east Asia
From:

UK Trade & Investment, Prime Minister's Office, 10 Downing Street, Department for Business, Innovation & Skills, and The Rt Hon David Cameron

Part of:

Exports and inward investment, UK prosperity and security: Asia, Latin America and Africa, Indonesia, Malaysia, Singapore, and Vietnam

Published:

27 July 2015

Last updated:

29 July 2015, see all updates
David Cameron led a trade delegation to Indonesia, Singapore, Vietnam and Malaysia from 27 to 30 July to boost UK trade and investment.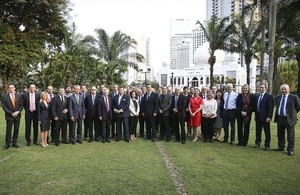 Document information
Published: 27 July 2015
Updated: 29 July 2015
Updated with link to Northern Powerhouse speech.
Added link to space partnerships news story.
Added a link to Flickr photo gallery.
First published.