Press release
PM meeting with Prime Minister Muscat of Malta: 13 March 2017
Prime Minister Theresa May told Maltese Prime Minister Joseph Muscat the UK is committed to maintaining close ties with European partners.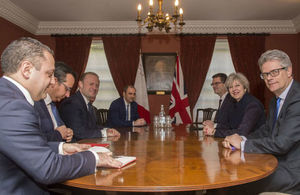 A Downing Street spokesperson said:
The Prime Minister met Prime Minister Muscat of Malta today, ahead of the Commonwealth Day service at Westminster Abbey.

During the meeting, both leaders stressed the importance of the bilateral relationship between the UK and Malta.

On Brexit, the Prime Minister was clear that a strong EU is in all our interests. She said we are committed to a smooth and orderly exit and to maintaining close ties with our European partners in the years ahead.

Both Prime Ministers expressed a desire to secure an outcome from the negotiations that works for all sides.
Published 13 March 2017