News story
PM meeting with Jewish Leadership Council: January 2015
David Cameron welcomed the Jewish Leadership Council to Downing Street this morning.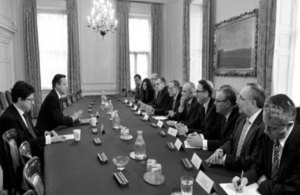 A Downing Street spokesperson said:
The Prime Minister held his annual meeting with members of the Jewish Leadership Council at Downing Street today. The Prime Minister condemned the appalling attacks in France and was keen to hear about the concerns of the British Jewish community in light of them. He stressed the importance of UK authorities and the community working together to tackle the threat, keep people safe and reassure those with concerns.

The Prime Minister praised the reaction of the Jewish community here in the UK and in France and said it was important to use the momentum generated by the positive response in France to emphasise the strong multi-faith community we have in Britain. There followed a wide-ranging discussion which covered security, anti-Semitism, campuses, Israel, regional shared threats, the Work of World Jewish Relief and schools.
Opening the meeting the Prime Minister told the Council:
We have a full agenda of issues to discuss but I know that everyone will be very concerned about what happened in Paris and the appalling attacks. I thought it was very moving going to Paris on Sunday and seeing so many people holding signs saying 'Je Suis Juif', 'I am a Jew', showing real solidarity with France's Jewish community. I want to reassure you that we will try and do everything we can to make sure that your organisations are properly engaged with our police and security services right across the board to see if there is anything more we can do to ensure security. I think we have to recognise that in a modern democracy you can never protect against every threat but we should do everything we can and be as vigilant as we can to help reassure. I had a very good meeting with police and security services to address all these issues. I think we have very capable security services in this country but there is always more to learn; there will be lessons to learn from Paris. I hope today to hear more about some of the particular concerns from the community. But I think we should use the momentum of those great demonstrations to emphasise what we are in this country: a very successful multi-ethnic, multi-faith democracy.
Notes to editors
The Jewish Leadership Council is a charity which brings together major British Jewish organisations to discuss ongoing issues affecting the Jewish community in the UK.
Published 13 January 2015