Press release
PM meeting with Chancellor Faymann of Austria: 26 November 2015
Prime Minister David Cameron held talks with Chancellor Faymann in Vienna to discuss the major challenges facing both countries.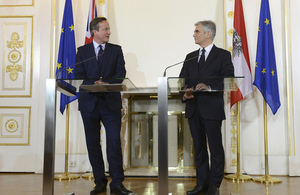 Thank you Chancellor.

It's very good to be here in Vienna today on my first visit as Prime Minister.

And in fact the first bilateral visit to Austria by a serving British Prime Minister for 30 years, which is far too long. So I look forward to coming back.

It is an opportunity to discuss some of the major challenges facing both our countries – such as terrorism and migration, and how we can work closely together to tackle them.

And of course to talk about the reforms I am seeking to the UK's relationship with the EU to address the concerns that the British people have about our membership.

Let me start with that.

We've just discussed EU reform and the UK's renegotiation.

I explained that the British people are not happy with the status quo and the issues that we need to address.

Issues around competitiveness, sovereignty, the relationship between countries within the Eurozone and those outside – we need to make sure we get this right. And, crucially, immigration.

All these issues matter to the British people and they need to be addressed in the renegotiation.

I set them out in detail to the President of the European Council a fortnight ago.

And discussions are now under way in Brussels on these proposals.

I understand that some of these things will be easier to fix than others but I welcome the discussions we have had so far – including the very productive discussions we have had here today.

And I firmly believe with the political will we can find solutions.

The EU has shown before that it has the flexibility to address the different concerns of its member states. Now it needs to do so again.

And I look forward to a substantive discussion at the December European Council.

We have also discussed how we can work together to better protect our countries from the terrorist threat.

We talked about those in our countries who have travelled to Syria, some of whom have returned, and the importance of our intelligence and security agencies working closely together.

We've both had citizens caught up in the sickening attacks that took place in Paris, which underlined the need for the European countries to work together to defeat these terrorists.

This requires a pan-European effort.

We need a stronger external EU border to protect our security with more effective screening and greater sharing of data between member states.

As members of the global coalition against ISIL, both the UK and Austria are committed to defeating these terrorists in Iraq and Syria.

As I said in Parliament this morning, this must be part of a comprehensive strategy to bring the civil war in Syria to an end, and of course the international talks, which Austria has hosted here in Vienna, are an absolutely vital part of that.

We have also discussed the other big challenge that stems from this conflict – migration.

I understand the immense pressures on Austria.

We agreed we need to continue to pursue a comprehensive approach which tackles the problem at source and stops migrants from making the perilous journey to Europe.

And we must do more to work with Turkey – Europe's neighbour and Syria's neighbour – who are hosting more Syrian refugees than any other country.

This will be the focus of the EU summit in Brussels on Sunday and I'm sure we'll discuss there what concrete steps we can take to stem the number of migrants coming to Europe.

So, thank you Chancellor for welcoming me here today. I look forward to coming back to the place where my step-grandmother lived – one day I'd like to show my family this great city.

Thank you.
Published 26 November 2015