News story
PM announces new 24 hour visa service
Downing Street has today unveiled plans to extend the 24 hour visa service aimed to attract more investment in Britain.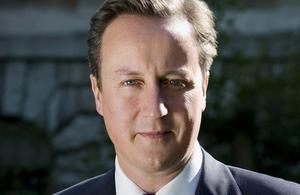 As the Prime Minister arrives in Australia for the annual G20 summit where he is expected to meet with around 30 global CEOs at the B20, Downing Street has unveiled plans to extend its successful 24 hour visa service to more business leaders, investors and wealthy tourists as part of the government's efforts to support British businesses and to deliver our plan to secure the long-term economic recovery.
The Super Priority Visa Service – already on offer in China and India – is aimed at business travellers and those needing to travel urgently, providing a visa decision within 24 hours.
The expansion will be rolled out by April 2015 to more countries - with G20 members Turkey and South Africa topping the list of seven which also includes the United Arab Emirates, Thailand, the Philippines and visa processing centres in New York and Paris. The additional cities have been picked due to high demand from businesses and high value travellers.
Welcoming the roll-out of the service, the Prime Minister said:
As part of our long-term economic plan, we are determined to do everything we can to back business, support investment and create jobs.

We are already taking action on that front including cutting corporation tax to the lowest rate in the G7 but we've got to keep listening to business about what more we can do to support them. And this new 24 hour service is another way we can help – it will persuade more business travellers, investors and tourists to visit Britain, to trade with Britain and to expand in Britain.

This is good news for British business and tourism, helping us to build a more resilient economy and secure a brighter future for Britain.
About the 24 hour visa service
Each visa application will cost £600 above normal charges, the same fee charged in India and China where demand has been averaging 50 to 60 applications per month and over 100 per month respectively.
All applicants must meet the strict requirements of our immigration rules and applying for a visa to enter the UK through the 24 hour service does not in any way guarantee a visa application will be successful.
The UK already offers customers an excellent visa processing service and these changes will help to ensure the service remains competitive. Other recent improvements include:
expanding the priority visa (3 to 5 days) services to over 100 countries
improving visa application centres and offering them in more locations across the world
extending opening hours at visa application centres and adding premium lounges
Published 13 November 2014