Press release
Plans approved for Cornwall's custom build housing project
People can design their dream home at one of England's biggest custom build sites after proposals for new plots were backed by planners.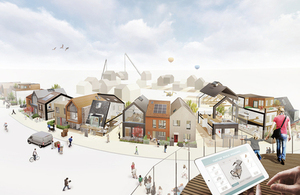 Planners have backed proposals to bring nearly 150 new and affordable homes to Cornwall. Cornwall council's approval of Carillion-igloo and Coastline Housing's planning applications to build 144 homes beside the Heartlands regeneration project at Trevenson Park, Pool, enables construction work and marketing to start later this year.
The development includes 54 custom build plots, which will offer people from across Cornwall the chance to design and build their own home with a manufacturer chosen from Carillion-igloo's specialist panel. This site is one of the Homes and Communities Agency's (HCA) biggest custom build projects and is set up by government to boost house-building by unlocking a wave of new homes designed and built by their owners.
Coastline Housing will also develop 90 new and affordable homes, which includes a well-designed block of 23 flats for older people overlooking the Heartlands Park.
It is estimated that around 200 full time equivalent annual jobs will be created by the construction work, with the majority of jobs going to people who live in Cornwall.
HCA area manager Paul Britton said:
This project clearly demonstrates one of the many approaches we are taking to provide more opportunities for people to get the homes they can afford in Cornwall.

Custom build offers people a more accessible route onto the housing ladder whilst providing an opportunity for people to design the home of their dreams. We know there is high demand for more homes in Cornwall, which has a history of self build housing. This scheme from Carillion-igloo and Coastline will make a positive contribution. I look forward to seeing the new homes come forward on this important and exciting site.
Carillion-igloo head of custom build housing Jon Sawyer said:
Carillion-igloo are very excited about securing planning for 54 custom build homes in Cornwall, which is an important milestone for this project and the custom build housing sector as a whole. We are grateful for the support of our partners HCA and Coastline and the pragmatism of Cornwall council in adopting a new approach to approving the appearance of homes, the first of its type in the UK. We will now be working hard to make the first serviced plots available in the spring and we aim to see the first custom build homes coming out of the ground by the end of 2015.
Christine Coonan, Coastline Housing's development manager, added:
We are very pleased to be able to provide a further 90 much needed homes in the centre of the Camborne-Pool-Redruth area. Our mix of rental and shared ownership properties will give many local people high quality homes at affordable cost.
It is expected that the plots will be made available to prospective buyers from next spring, with work on the affordable homes starting early next year.
The HCA has recently launched a £150m loan fund for custom build projects which will provide finance for the development of serviced plots to support people who want to build their own home.
Published 4 February 2015