News story
Planning for the demands of flu this winter
The flu plan for 2013 to 2014 has been jointly published by Public Health England, the Department of Health and NHS England.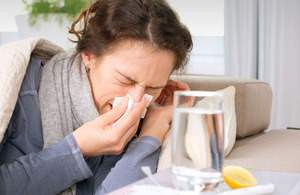 The flu plan sets out a coordinated and evidence-based approach to planning for the demands of flu across England, taking account of lessons learned during previous flu seasons. The aim is to minimise the health impact of flu through monitoring, prevention and treatment, including:
actively offering the flu vaccine to all eligible groups, including health and social care workers, those who are aged 65 or over, pregnant women and those who are considered to be at risk because of other long term health conditions
providing public health information to prevent and protect against the flu
offering antiviral medicines to patients in at risk groups
monitoring the severity of the disease, vaccine uptake and impact on the NHS.
Dr Paul Cosford, Director of Health Protection and Medical Director at Public Health England said,
Flu is an unpredictable but recurring pressure that the NHS faces during the winter months. Although flu seasons have been mild in recent years it is important that the NHS and other local organisations use the Plan to ensure they are as prepared as possible ahead of the next flu season.
The Flu plan is supported by the annual flu letter and the Influenza chapter in Immunisation against infectious disease: the green book. A separate letter with details of the extension of the flu programme to children has also been published today.
Published 26 July 2013