Pfizer/BioNTech COVID-19 vaccine: MHRA statement
The safety of the public will always come first.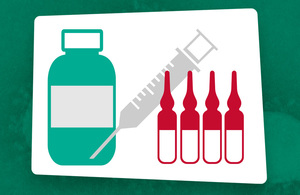 MHRA Chief Executive Dr June Raine said:
The results reported by Pfizer today are very encouraging and add to their announcement from last week.
We look forward to receiving the full results of the trials as soon as possible, after which we will rigorously assess the evidence of safety and effectiveness of the vaccine.
Approval process for a potential COVID-19 vaccine
Until the end of December, and as part of the transition period, COVID-19 vaccine candidates can be licensed (authorised) via the European Medicines Agency (EMA) and that authorisation will automatically be valid in the UK.  
However, if a suitable COVID-19 vaccine candidate, with strong supporting evidence of safety, quality and effectiveness from clinical trials becomes available before the end of the transition period, EU legislation allows for temporary authorisation of supply in the UK, based on the public health need.
The MHRA will evaluate the data rigorously for quality, safety and effectiveness to reach an independent, scientifically robust opinion. The data must include results from lab and clinical trials in humans; manufacturing and quality controls, product sampling, and testing of the final product. 
Any COVID-19 vaccine candidate submitted after the transition period ends in January 2021 will not need to go through a European marketing authorisation for use in Great Britain and will instead be assessed directly by the MHRA. The MHRA is globally recognised for requiring the highest standards of safety, quality and effectiveness for any vaccine. 
Published 18 November 2020
Last updated 23 November 2020
+ show all updates
Updated statement from MHRA Chief Executive Dr June Raine

First published.