Press release
Peter the Wild Boy's grave in Hertfordshire is 'listed' by Heritage Minister Ed Vaizey
The final resting place of a feral German child, adopted as a sort of 'court pet' by the Royal family of George I in the early eighteenth century, has been listed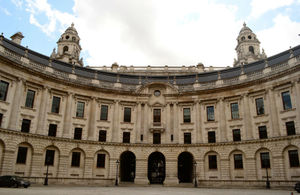 The Grade II listing follows expert advice from English Heritage.
Peter was discovered as a teenager, apparently abandoned in a forest near Hanover in 1724, dishevelled, unable to speak and walking on all fours. Following a visit by George I – who was also Elector of Hanover – he was invited to England where he lived, firstly as a curiosity in the King's court and later, as his novelty waned, to become a farm labourer in Northchurch, Hertfordshire.
It is now believed he suffered from a chromosomal disorder called Pitt-Hopkins Syndrome. He died, aged 72, and was buried in St Mary's Church. The gravestone is said to have been paid for by local people, and flowers are regularly laid on it to this day.
Ed Vaizey said:
Peter the Wild Boy's story is both extremely interesting and, at the same time, poignant and unsettling. It also reminds us how far public attitudes to disability have changed. His gravestone survives in good condition and has considerable historic interest. Its preservation will help to keep his extraordinary history alive for many generations to come.
Tony Calladine, designation team leader at English Heritage, added:
This is a fascinating story of a significant figure in the country's history of disability. Listing marks special historic interest, so is very appropriate for the headstone of Peter the Wild Boy, given the intrigue in his story both in Georgian England and today.
Notes to Editors
Copies of the English Heritage Inspector's report, along with images, are available from the English Heritage press office on 020 7973 3250.
The following is an extract from that report, explaining more about the history surrounding Peter the Wild Boy:
History
The enigmatic inscription on the gravestone refers to a feral boy who was found in 1724 in the forest of Hertswold near Hanover in Germany by Jurgen Meyer, a smallholder of Hamelin. The boy, who appeared to be in his early teens, was dishevelled, walked on all fours, and did not speak. Meyer took him to Burgermeister Severin who put the boy in the care of St Spiritus Poor House for nine months after which he was transferred to the hospice adjacent to the prison in Celle. He was given the name of Peter because whenever this word was mentioned he appeared to respond, although it was later observed that he responded to other names. During a visit to Celle by George I (who was also Elector of Hanover) the boy was invited to dine with the King who then left him in the care of a gardener. On the King's return to England, news of Peter the Wild Boy provoked much interest at court and in 1726 the boy was brought to England.
Peter was given a tutor but he never learned to read, write or speak and his strange appearance and erratic behaviour caused a sensation. He was the inspiration for satires by Jonathan Swift who wrote 'It Cannot Rain But It Pours; or, London Strewed with Rarities' and Daniel Defoe who wrote 'Mere Nature Delineated'. A wax figure of him was exhibited, and he was included in a painting by William Kent of the Court of George I. Peter was also studied by leading scientists of the day and Carl Linneaus created a new category of human for him called 'Juvenis Hanoveranus' in his Systema Naturae.
After Peter's novelty at court waned, he was entrusted to the care of Mrs Tichbourne, a member of the royal household. She took Peter with her on a visit to Northchurch to see James Fenn, a yeoman farmer at Axters End. After several visits, Peter was entrusted to the care of James Fenn who was given a generous allowance by the Crown to look after him. On James's death, Peter was taken to Broadway Farm where he worked happily alongside farm labourers and lived until his own death in 1785 at the age of approximately seventy-two. He was buried at the expense of the government but it is said that his gravestone was paid for by local people. A brass tablet inscribed with a brief history of Peter's life is located inside St Mary's Church on the south wall of the nave.
Recent analysis of Peter's portrait has been carried out by a Professor of Genetics. The results suggest that Peter had Pitt-Hopkins syndrome, a chromosomal disorder first identified in 1978. Its most distinctive effect is clearly apparent in Peter's curvy 'Cupid's bow' mouth, and he displayed other symptoms including his short stature, coarse hair, drooping eyelids and thick lips. Another symptom may have been his two fused fingers, and the condition would also have affected his mental development.
English Heritage announced on 15 October 2012 that they were about to launch an online resource to explore how charging attitudes to disability over the last 1,000 years can be mapped through historic buildings.
Published 20 February 2013