Penrose protects 'Pasmore's Pavilion'
Structure in northern town awarded Grade II* status.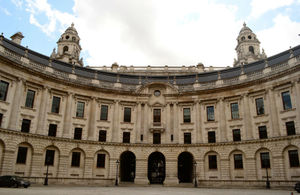 A 1960s structure designed by artist Victor Pasmore and built as the centrepiece of a housing estate in a new town has been given a Grade II* listing today.
Following advice from English Heritage, the Apollo Pavilion, in Peterlee, County Durham, is now among the top five per cent of all listed buildings in England, Heritage Minister John Penrose announced.
The pavilion was completed in 1969 but was subjected to vandalism and neglect in the late seventies and the eighties. It escaped demolition and was refurbished following a grant from the Heritage Lottery Fund.
"This is a striking example of how abstract art and 'brutalist' architecture can come together to make a building that is quite unique, and all the more so now that it has been rescued from dereliction in a highly successful project supported by Lottery funding and driven by the commitment of local people," Mr Penrose said.
Nick Bridgland, Designation Team Leader at English Heritage, said: "Named in homage of space exploration, the pavilion showed the bold optimism of those building the new town of Peterlee. Designed by Victor Pasmore, one of Britain's leading post-War artists, the pavilion is as much an abstract sculpture as it is a building, providing a focal point to the small park at the centre of the community."
The listing means that the pavilion's status will have to be taken into account in any future development proposals.
Further information
Published 15 December 2011