Press release
Over £100m to support groundbreaking clinical research
Over £100m will be invested in NHS Clinical Research Facilities to develop new treatments to benefit thousands of patients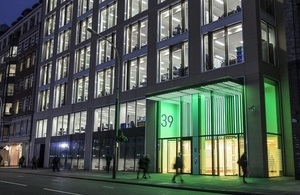 Over £100m will be invested in NHS Clinical Research Facilities to develop new treatments to benefit thousands of patients, the government announced today.
The money, provided by the National Institute for Health Research, will be spent on research nurses and technicians at 19 of the facilities around the country. A huge number of new treatments for conditions including cancer, diabetes, stroke, dementia and obesity will be developed by researchers at the facilities.
Some of the funding will also be used to conduct research into rare diseases. The first ever UK consultation on Rare Diseases was published yesterday which outlines how we can build on our strengths through improved co-ordination of services, stronger research and better engagement with patients and their families.
Secretary of State for Health, Andrew Lansley said: 
"The public and patients think it's important that the NHS should support research into new treatments, and we agree. That's why we're investing over £100m in research facilities, nurses and technicians to help make the NHS a world-class place to do research.
"These researchers will push forward the boundaries of what is possible. These are the people and the facilities where the very best new treatments will be developed for a huge range of conditions - from cancer to diabetes and heart disease. NHS patients are the ones who will see the benefit of their work."
Some of the Clinical Research Facilities that will receive funding include:
Alder Hey Children's NHS Foundation Trust, in Liverpool, who will use their funding to support early-stage trials of drugs for children with diseases including cancer, arthritis and asthma. Children often metabolise and absorb medicines differently to adults, and research on drugs especially for children has been until recently a neglected area. The team at Alder Hey will play a vital part in finding ways that medicines can be used more safely and effectively to treat children.
University Hospitals Birmingham Foundation Trust and Birmingham Children's Hospital will use their funding to support research including into rare diseases, gene therapy, trauma, infection and ageing. The team at Birmingham will also use a Health Research Bus, which will take research into the community and allow more studies to be conducted.
Cambridge University Hospitals NHS Foundation Trust, whose research will include looking into treatments for peanut allergies, which affect one in fifty children in the UK. People with peanut allergies can suffer severe reactions - and even die - if they come into contact with peanuts. The Cambridge team will research ways of permanently curing people who suffer from these allergies.
Promoting and fostering this kind of clinical research is one of the Government's top priorities, and through the Health and Social Care Bill the role that research plays in the health service will continue to be strengthened.
Professor Dame Sally Davies, Chief Medical Officer and Chief Scientific Advisor at the Department of Health said:
"These are very exciting times for clinical research in the UK, and this funding is a reflection of the commitment we have to supporting world-class experimental medicine.
"The Clinical Research Facilities will play a key role in supporting advances in treatments for a wide variety of diseases and supporting collaboration with industry. Thousands of people will benefit right across the country." 
NHS Trusts and Foundation Trusts with clinical research facilities submitted bids for the funding, which were judged by a panel of UK experts in both medical research and in running clinical research facilities. Winning bids were selected on the basis of the quality and volume of world-class medical research they support as well as other criteria including the strength of their partnerships with universities and industry.
Notes to editors
For further information, please contact the Department of Health press office on 020 7210 5221.
A full list of successful bidders can be found below. Awards are subject to the successful conclusion of contractual negotiations.
On the 5th December 2011 the Prime Minister launched a new Strategy for UK Life Sciences which aims to continue the country's record of world-leading innovation in life sciences. In the strategy, the Government describes how it aims to provide a better environment for life sciences, to improve the lives of patients and contribute to economic growth. The strategy highlights the important contribution NIHR research makes to innovation in life sciences, and sets out a number of key actions where NIHR is leading.
About the NIHR
The National Institute for Health Research provides the framework through which the research staff and research infrastructure of the NHS in England is positioned, maintained and managed as a national research facility.  The NIHR provides the NHS with the support and infrastructure it needs to conduct first-class research funded by the Government and its partners alongside high-quality patient care, education and training.  Its aim is to support outstanding individuals (both leaders and collaborators), working in world class facilities (both NHS and university), conducting leading edge research focused on the needs of patients.
NHS Trusts to receive NIHR Funding for Clinical Research Facilities for Experimental Medicine (1 September 2012 - 31 March 2017)
NHS Organisation Funding awarded
Alder Hey Children's NHS Foundation Trust £2,000,000
Brighton and Sussex University Hospitals NHS Trust £3,000,000
Cambridge University Hospitals NHS Foundation Trust £10,849,043
Central Manchester University Hospitals NHS Foundation Trust £5,500,000
The Christie NHS Foundation Trust £4,500,000
Guy's and St Thomas' NHS Foundation Trust £5,643,244
Imperial College Healthcare NHS Trust £10,885,958
Leeds Teaching Hospitals NHS Trust £500,000
Moorfields Eye Hospital NHS Foundation Trust £5,315,730
The Newcastle Upon Tyne Hospitals NHS Foundation Trust £4,000,000
Oxford University Hospitals NHS Trust £3,738,298
Royal Devon and Exeter NHS Foundation Trust £5,738,298
The Royal Marsden NHS Foundation Trust £2,812,128
Sheffield Teaching Hospitals NHS Foundation Trust £3,111,844
South London and Maudsley NHS Foundation Trust £4,738,298
University College London Hospitals NHS Foundation Trust £5,500,000
University Hospitals Birmingham NHS Foundation Trust* £12,812,956
University Hospital of South Manchester NHS Foundation Trust £2,500,000
University Hospital Southampton NHS Foundation Trust £9,244,166
Total   £102,389,962
*includes some existing support to these clinical research facilities which is subsumed in this future funding.
Published 1 March 2012