Our World War 2 heritage further protected as John Penrose lists Block C at Bletchley Park where Enigma Code was cracked
Building at Bletchley Park used to break the Enigma Code and which contributed to the allied victory in the Second World War listed Grade II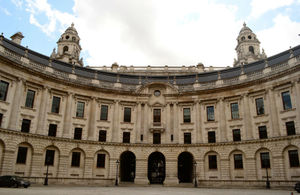 The listed status was given today by Heritage Minister John Penrose.
Block C at Bletchley Park housed the site's first use of high-speed data processing machines on a large scale which greatly sped up the code-breaking work, previously done by hand. Its hardened exterior and soundproofing show the importance placed on protecting the Hollerith machines and card data inside.  
John Penrose said:
"The work that took place at Bletchley Park was absolutely key to the Allied victory in World War 2. Parts of the site already have listed status, and I'm pleased to add Block C to this group today. The building was vital to the success of Bletchley Park's Second World War code-breaking work, and specifically the cracking of the German Enigma Code. But the site also had a huge role in the start of the information age, with the development of machinery for mass data processing and can be viewed as the birthplace of modern information technology.
"It's important the fabric of the building as well as the history surrounding the work of so many people inside those four walls is protected for future generations, and Block C clearly merits the extra protection against unsuitable alteration or development that listing provides."
Veronica Fiorato, English Heritage Designation Team Leader for the South said:
 
"We are delighted that the Minister has agreed with our advice to list Block C at the hugely significant Bletchley Park. Block C is important not only for its code-breaking role and contribution to the allied victory in World War II but also as a contributor to the site's development of high-speed digital processing machines."
Bletchley Park is world renowned as a Second World War intelligence and code-breaking centre and is most famous for its achievement in breaking the German's highly complex Enigma code. However it was also responsible for the development of the modern computer and further achievements within the subjects of mathematics and linguistics. Block C was first occupied in November 1942.
Notes to editors
For copies of the advice reports please contact Emma Marsh in the DCMS Press Office on 0207 211 6271.
For further press information or interview requests please call Debbie Holden in the English Heritage Press Office on 0207 973 3855.
Press Enquiries: 020 7211 2210
Out of hours telephone pager no: 07699 751153
Public Enquiries: 020 7211 6000
Published 6 January 2012