Press release
Online tools aid patient health decisions
Health Secretary Andrew Lansley launches a set of innovative online tools that can help patients make informed decisions about their healthcare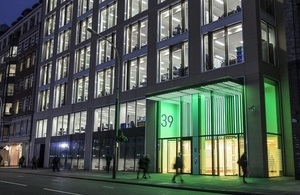 Health Secretary Andrew Lansley today officially launched a set of innovative online tools that can help patients make informed decisions about their healthcare.
Eight online Patient Decision Aids (PDAs), commissioned by NHS East of England, give patients information on the pros and cons of different treatment options available to them. As a key product of the Right Care programme, part of the NHS's work to improve quality, innovation, productivity and prevention, these aids personalise services for patients to make sure they get the right treatment the first time.
Developed by NHS Direct and available on their website for patients to use anywhere across England, the online tools help patients learn more about their condition and the options for tests and treatments on conditions such as cataracts and breast cancer. 
Patients are able to see what choices are available to them, input their personal preferences and have an informed discussion with their clinician about their options. These tools do not replace a doctor's clinical advice but are in addition to help patients prepare for a consultation and any decisions they make afterwards.
Speaking at the launch event in Cambridgeshire today, Health Secretary Andrew Lansley said:
"I want the NHS to become a collaborative service, one where the patient is an active participant in their own care, with a clear voice saying 'no decision about me, without me'.
"A modern NHS is one which is focused on the patient and empowers them with a genuine choice about their future. Patients are the greatest untapped resource in healthcare and I want the conversation between doctor and patient to become a meeting between two experts - the clinical expert and the expert on themselves.
"These online Patient Decision Aids are an important step towards helping patients make real, informed decision about their care. They are part of the culture change within a personalised NHS that puts patients in control of their health."
Improving the quality of personalised services that patients receive the first time means that efficiency savings can be reinvested back into frontline care.
**Dr Steven Laitner, General Practitioner and National Clinical Lead for Shared Decision Making said: **
"These tools have the potential to transform the lives of patients. Patients will of course still want and need to discuss treatment options with their clinicians but they will start from a more informed, more empowered position. We should allow patients to consider their own needs, personal values and priorities when making a decision about their treatment.
"This approach also benefits clinicians. Better informed patients can save time in the consultation and patients will be more likely to receive treatments which they highly value. It's really about improving the experiences and outcomes for everyone involved."
Jean Hardiman Smith, who suffers from arthritis of the knee used the PDA to find out more about her condition:
"The Patient Decision Aid was like having a long, unhurried session with a top knowledgeable specialist, with the extra benefit of additional advice from the videos. The Patient Decision Aid allowed me to learn more about my condition and the treatments on offer - to be able to review this in the context of my own life was hugely beneficial."
For more information about the online Patient Decision Aids please contact the NHS East of England press office on 01223 597545 or pressoffice@eoe.nhs.uk.
The eight online Patient Decision Aids can be found on the NHS Direct website and cover the following conditions: * osteoarthritis of the knee* * enlarged prostate* * localised prostate cancer* * Chorionic Villus Sampling (CVS) /Amniocentesis testing** * breast cancer surgery choices** * Prostate Cancer Screening** * Osteoarthritis of the hip* * cataract surgery* 
Adapted from existing DVD and booklet decision aids developed by the Foundation for Informed Medical Decision Making (FIMDM) and BUPA Health Dialog. 
** Based on online Decision Support Interventions developed by Cardiff University's School of Medicine, in partnership with Oxford, Sheffield and Swansea Universities, with funding from Cancer Research UK, NHS Cancer Screening Programme. 
*** Clinical content developed in collaboration with the BMJ Publishing Group 
To find out more about the QIPP workstream, please click here or call the DH press office on 020 7210 5221.
Published 30 September 2011