News story
One year to go to First World War centenary
Recognition for Victoria Cross recipients and help for war memorial restoration announced to mark historic anniversary.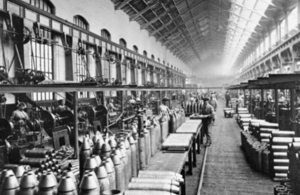 One year away from the start of the First World War four-year centenary programme, we are announcing help to restore war memorials up and down the country, and a new way to honour Victoria Cross holders from the conflict.
Commemorative paving stones for Victoria Cross recipients
Victoria Cross recipients will be at the heart of our plans to commemorate the centenary of the First World War. Special commemorative paving stones will be laid in the home towns of all those in the United Kingdom awarded the Victoria Cross for valour 'in the face of the enemy' during the conflict.
Communities Secretary Eric Pickles has announced a national competition to design specially commissioned paving stones which will be presented to councils in the areas where those Victoria Cross recipients of the First World War were born.
The stones will provide an enduring legacy in local communities of their local heroes- a fitting tribute to mark the centenary of their extraordinary bravery and service fighting for their country. This will also enable residents to gain a greater understanding of how their area fitted into the story of the First World War.
Communities Secretary Eric Pickles said:
It is our duty to remember the British and Commonwealth troops who lost their lives fighting in the Great War and we are determined to make sure their bravery for King and Country is not forgotten.
Laying paving stones to mark these Victoria Cross heroes will ensure that there is a permanent memorial to all the fallen who fought for our country and the competition is a great way for people from all corners of the United Kingdom to get involved.
This will connect communities to their shared history, help residents understand how their area played its part in the Great War, and ensure memories of that sacrifice for British freedom and liberty are kept alive for generations to come.
"A fundamental effect on the course of our history"
Culture Secretary Maria Miller said:
The First World War had a fundamental effect on the course of our history. It also saw nearly a million British military and civilian deaths, heroes from communities across the commonwealth who fought for King and Country. But as time passes, the living links that connect that terrible time and the present day have dwindled. So it is really important that we mark the centenary which, saw some of the darkest days in our history, and remind everyone of the sacrifice that was made - and how it has affected all our lives today.
Help for communities to refurbish war memorials
With one year to go until commemorations begin the government has also announced more help will be made available for local communities to restore and refurbish their war memorials. A new website will be created, to help make sure that people across the country can get funding and support so that all First World War memorials are in good condition for November 2018.
Heritage Lottery Fund grants
Communities are now feeling the real benefit of Lottery funding. Today the Heritage Lottery Fund is announcing the first grants under its new £6 million 'First World War – Then and Now' small grants programme. From Devon to Durham, and from Brecon to Bridlington – the National Lottery is supporting local people who are commemorating the centenary in exciting and imaginative ways.
Centenary apprenticeship
Today also sees the launch of a campaign to get 100 employers signed up to the new Centenary Apprenticeship scheme in 100 days. The aim is to get companies who existed 100 years ago, who focus on crafts with a modern application, to join the scheme. Any who join up will be able to badge the apprenticeship with the Centenary logo.
Skills Minister Matthew Hancock said:
Apprenticeships originated from centuries-old trades like stonemasonry and clock making, and today reflect the broad sweep of the modern economy. So it will be fitting to mark 100 years since the start of the First World War with Apprenticeships in skills that existed at the time.
The Centenary Apprenticeship Programme will give young people the unique opportunity to be part of an important commemoration while also acquiring skills that are valuable and relevant today.
Further information
Published 4 August 2013
Last updated 5 August 2013
+ show all updates
Added list of VC recipients by area
First published.