Press release
One month to go to England's biggest free music festival
170 free concerts across England from 11 to 13 July bringing people together to listen and participate with local musicians.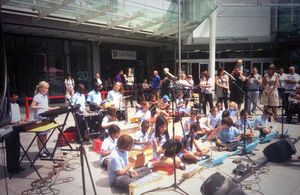 Minister for Communities Stephen Williams has today (13 June 2014) announced 170 free concerts across England on 11 to 13 July, bringing people from all backgrounds together to listen to and participate with the best local musicians.
The 'Our Big Gig' events will be free for both participants and spectators, and will feature more than 7,000 musicians and 2,000 volunteers helping stage events at venues ranging from shopping centres, schools, town centres, churches, parks and village greens to pubs, the Auckland Castle and Mersey Ferries. All venues will be open to people all ages. The gigs are part of government's work to bring people together in strong united, communities, as well as an "Inspired by 2012" project which aims to keep the legacy of the 2012 Olympics and Paralympics alive.
Stephen Williams said
Live music is a great way of getting people from all different backgrounds and from right across the country involved in their local community and have a weekend of free entertainment into the bargain. The Our Big Gig weekend will help turn strangers and neighbours into friends and encourage lots of people to get involved in music, in some cases for the first time.
Visit the Our Big Gig website to find locations and line ups.
In 2012 more than 200 community-led performances attracted 200,000 people on the closing day of the Paralympics, and last summer's Our Big Gigs saw over 200,000 people attend free concerts.
Our Big Gig is organised by not for profit arts organisation Superact, with the Department for Communities and Local Government as the main sponsor. Ten of the 170 events are going ahead through 'crowd funding' from people eager to have an event locally.
Katharine Lane of Superact said
Just as football will unite thousands of people this summer at the world cup, so too will music and we hope Our Big Gig will again offer a unique way for communities to come together.
Darren Henley, managing director of Classic FM and chair of Our Big Gig advisory group, said
For the second year running government, Superact and the music industry have worked together to arrange this huge series of free concerts to bring thousands of people together through music. This year's line ups will be the most exciting and diverse we have seen yet.
Our Big Gig is one of a number of projects the department is funding to bring people together from different backgrounds and help build stronger communities. See more information on our projects and our partners.
Examples of events
Our Big Gig across the Mersey
Talented young Merseyside singers and musicians from both sides of the River Mersey will be performing on ferries across the Mersey on Saturday 12 July. Music and arts organisation Showrunners will also be inviting passengers to bring instruments on board to take part in a Mersey Ferry Jam.
The aim is to bring together performers from both sides of the River Mersey - communities that generally don't mix very often so new friendships and networks can be formed and to create a sense of pride amongst the people on the ferry from all across Merseyside.
It will be a showcase of the local talented musicians to visitors who come from all over the world to travel on the Mersey ferry. They also plan to perform an exciting new Hip Hop version of the famous anthem 'Ferry Across the Mersey'.
BBC Radio Merseyside will be broadcasting live from the event.
Works Skate Park, Leeds Our Big Gig
On Saturday 12 July young people at the skate park will be creating a 'stomp' style performance using BMX and skateboard parts. They will also be showcasing a range of talent from local performers who skate at the park and a local record label will be showcasing new talent.
The Daddy Cool Our Big Gig
The Daddy Cool project is a UK social enterprise highlighting the importance and positive impact of fathers and male role models in society. Their event on Saturday 12 July at the 02 Think Big Hub in Hoxton square will showcase a range of local musicians from Hackney highlighting the importance of male role models through music.
Lives not Knives Our Big Gig
This charity works with young people in Croydon to reduce gang violence. Their event on Saturday 12 July will be showcasing a range of local young talent to encourage more young people to get involved in music and to show the community how young people can positively contribute to the area.
Warrington Our Big Gig
This event is organised by a charity called 'where the music takes you' and is a remarkable story of one young woman's determination to remember and celebrate two of her friends - Candice and David - both talented Warrington performers who sadly died in their early 20s, Eleanor Jones is determined that they won't be forgotten and has set up this charity in their name and honour. The focus of the work is to offer music-making opportunities to disabled and vulnerable children and young people.
Further information
The Department for Communities and Local Government is providing funding to Superact, a not-for profits arts organisation, to deliver the overall project, which includes training community event organisers and issuing grants to the events, to cover costs such as public address systems, licences and insurance.
Office address and general enquiries
2 Marsham Street
London
SW1P 4DF
Contact form http://forms.communiti...
General enquiries: please use this number if you are a member of the public 030 3444 0000
Published 13 June 2014