News story
One hundred experts join government to lead digital transformation
Over 100 digital and technology experts have joined government in the last year to help lead the digital transformation of public services.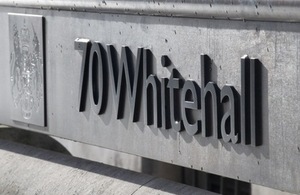 The 100 experts have been recruited to fill a variety of technical roles and strengthen digital leadership in government departments. Roles range from departmental chief digital officers and chief technology officers, to technical architects and developers who are improving government services like the Carer's Allowance and apprenticeship applications.
The Government Digital Service (GDS) is leading this ongoing recruitment to increase specialist capability in the civil service. Raising technology and digital skill levels across government is 1 of 4 priority areas in the Civil Service Capabilities Plan, which was updated in April this year and forms part of the Civil Service Reform Plan.
One notable new appointment is former Credit Suisse Chief Information Officer (CIO) Magnus Falk as the government's new Deputy Chief Technology Officer (CTO), reporting to Government CTO Liam Maxwell. Magnus joins a leadership team tasked with ensuring that government technology provides excellent digital services that people prefer to use.
Other recent technology recruits include:
Ministry of Justice CTO Ian Sayer, who was Global CIO at Electrolux
government Chief Technical Architect (CTA) Kevin Humphries, former CTA at Qatarlyst
Digital leadership has also been strengthened through the appointment of Chief Digital Officers (CDOs):
HM Revenue & Customs Chief Digital and Information Officer Mark Dearnley, formerly CIO of Vodafone
Ministry of Justice CDO Paul Shetler, who previously co-founded 2 start-ups and was CTO for Banking at Oracle
Office for National Statistics Deputy Director for Digital Publishing Laura Dewis, who was Head of Online Commissioning at The Open University
Jacqueline Steed, former Managing Director and CIO for BT Wholesale, who starts as CDO at the Student Loan Company (SLC) next week
Department for Work and Pensions CDO Kevin Cunnington, who was previously Global Head of Online for Vodafone
Departmental digital and technology leaders will work closely together, sharing experiences and lessons learned through the Digital Leaders Network and the Technology Leaders Network.
Minister for the Cabinet Office Francis Maude said:
As part of our long-term economic plan, bringing in digital and technology experience and expertise is just one of the ways in which we are creating a world-class, 21st century civil service capable of leading change and delivering the best for Britain.
Mike Bracken, Executive Director of Digital in the Cabinet Office, said:
The transformation of government digital services, and the technology that underpins it, is a compelling proposition. By creating an environment in which this kind of change can happen, government is now able to attract technical experts who want to do work that matters.
Published 28 August 2014