News story
Ofcom to manage release of MOD radio spectrum
The Ministry of Defence is preparing to release around 200 megahertz (MHz) of radio spectrum to the communications regulator.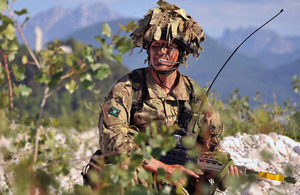 The spectrum will be managed by Ofcom and made available for commercial use.
Radio spectrum refers to the radio waves over which all wireless communication takes place, including radio, television, radar, satellite, and mobile voice and data. The spectrum being released is all below 15 gigahertz which is regarded as the most useful and valuable part of the radio spectrum because of its wide range of applications.
Demand for additional spectrum is currently high, fuelled by the needs of consumers to access video and data-hungry applications on their smartphones and tablets.
The spectrum being released can help meet this demand by supporting the expansion of fourth-generation (4G) mobile services to more people in cities, towns and villages across the UK. Both business and domestic users will benefit from faster speeds, better coverage and much improved reliability.
4G networks and future innovations in mobile technology are all expected to make significant contributions to UK economic growth.
Ofcom has vast experience and expertise in successfully conducting large-scale releases of spectrum. Earlier this year they completed the auction of 250MHz of spectrum for 4G mobile broadband services and since late 2012 have been providing technical and regulatory support to assist MOD's release plans.
The Minister for Defence Equipment, Support and Technology, Philip Dunne, said:
Ofcom are experienced in managing radio spectrum sales. I am confident they will oversee a competitive and fair process. Freeing up this spectrum will be good for business and good for consumers. It is a valuable step in driving growth and building a stronger economy.

The MOD spectrum to be released will have no impact on national security or the operational effectiveness of the UK's Armed Forces.
Published 13 September 2013