News story
October 2013 storm - UK government response
Information and advice from government departments and agencies about the storm that has been causing disruption to parts of the UK.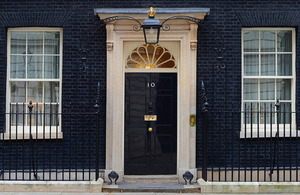 Following a call chaired by the Prime Minister, plans are in place with the following government departments and agencies to ensure people are protected from the St Jude's storm.
It has been passing across parts of the United Kingdom overnight from Sunday 27 October and into the morning of Monday 28 October.
Read details of the Prime Minister's call
See below for the latest information and advice about the storm.
Met Office
For the latest updates on the progress of the storm visit the Met Office website or follow them on Twitter.
Highways Agency
For advice on travel visit the Highways Agency website or follow them on Twitter.
Environment Agency
For advice on risk of flooding in your area and how to prepare visit the Environment Agency's website or follow them on Twitter.
Local councils
Use this tool to find your local council and their advice.
Further information
Some train operators are running amended timetables. Check with National Rail Enquiries for the latest updates.
Air passengers planning to travel through UK airports on Monday 28 October are advised to check the status of their flight with their airline.
Numerous government departments and agencies are working together to provide support throughout the storm. In addition to those listed above, further information and advice can be found on the following websites and Twitter channels:
Published 27 October 2013
Last updated 28 October 2013
+ show all updates
Updated information
Updating with latest information
First published.