Press release
Nurses and midwives urged to get the seasonal flu vaccine
Hospital nurses and midwives are among the health workers least likely to have the seasonal flu jab, according to new Department of Health data.
This news article was withdrawn on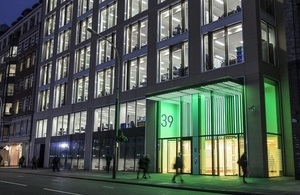 Hospital nurses and midwives are among the health workers least likely to have the seasonal flu jab, according to new Department of Health data published today.
The latest seasonal flu vaccine uptake reports show, for the first time, those healthcare workers by occupation who accepted the scientific advice and who chose to protect themselves against flu last winter. Uptake was revealed as:
• 30 per cent of nurses, including hospital nurses and midwives;
• 42.5 per cent of GP practice nurses;
• 38.2 per cent of GPs; and
• 37 per cent of doctors excluding GPs.
The number of healthcare workers getting the vaccine had increased from 26.4 per cent in the 2009 winter to 34.7 per cent in 2010. However the majority of nurses who work with the most critically ill over the winter months and midwives who work with pregnant women, were left vulnerable to flu, its potentially life threatening complications and passing it onto patients and family.
The data also provides a breakdown of the seasonal flu vaccine uptake for:
- patients in an at risk group by age; and
- patients in an at risk group by condition.
The new data reveals that only 25.2 per cent of six months to two year olds in at risk groups were vaccinated last winter, compared with 51.7 per cent of 16 to 65 year olds at risk.
Last winter people in at risk groups were 11 times more likely to die from seasonal flu than people with no underlying health problems. This risk increased for some specific health conditions. For example, people with chronic liver disease were 48 times more likely to die if they developed flu than individuals with no underlying health conditions - the highest of all the risk groups. And only 41.8 per cent of patients with chronic liver disease were vaccinated, compared with 68.4 per cent of those with diabetes.
Chief Medical Officer Dame Sally Davies added:
"NHS staff face increased pressure over winter, especially if there is a severe flu season.  They keep the NHS running and it is vital that they protect themselves, their patients and families from the potentially serious effects of flu that they are exposed to over the winter period.
"It is never too early to start thinking about flu.  So as NHS staff return from their holidays, I urge them to plan ahead and get vaccinated."
Public Health Minister Anne Milton said:
"I urge all of our dedicated nurses, especially those who work with the sickest patients and midwives working with pregnant women, to protect themselves and their patients from flu.
 "I hope these figures will provide a reminder for all healthcare professionals to start thinking about flu now and plan when they will get vaccinated this year."
Dr. Peter Carter, Chief Executive & General Secretary of the Royal College of Nursing said:
 
"Patients and healthcare staff suffer when nurses are off sick. It is vital that nurses do all they can to take responsibility for their own health and of those around them. The RCN will be working with our members to ensure they have access to all of the relevant information to enable them to make the right decision about the uptake of the vaccine.
 
"Employers should never force staff to be vaccinated. Equally, employers and vaccination services need to work together to ensure that the whole process is as simple and as effective as possible."
RCM Deputy General Secretary Louise Silverton said:
"Midwives are strongly advised to encourage all pregnant women to be vaccinated against seasonal flu. In addition midwives as key health workers should themselves seriously consider being vaccinated to prevent transmission of influenza to the women for whom they care and also to their own families."
Notes to editors
1. The reports will be published on the Department of Health website.
2. Overall uptake of the seasonal flu vaccine last year was similar to the previous year.
3. The HPA collate the data on vaccine uptake in at risk groups from GP practices via the ImmForm website.  Uptake data of the seasonal flu vaccine in frontline healthcare workers are submitted to ImmForm by NHS Trusts.
4. The at risk groups for seasonal flu are:
- patients aged 65 years and older
- patients aged six months to under 65 years in an at risk group (for example if they have chronic respiratory disease, chronic heart disease, chronic kidney disease, chronic liver disease, chronic neurological disease, diabetes or immunosuppression)
- pregnant women
- frontline healthcare workers
- carers
- those living in long-stay residential care homes
5. For further media enquiries please call the Department of Health Newsdesk on 020 7210 5221.
Seasonal Influenza Vaccine Uptake amongst GP Patient Groups in England 2010/11
Seasonal Influenza Vaccine Uptake amongst frontline healthcare workers in England 2010/11
Published 6 September 2011