Press release
Nuclear talks between Iran and E3+3 to continue in November
Foreign Secretary William Hague welcomes positive approach by Iranians but underlines there is great deal of hard work ahead.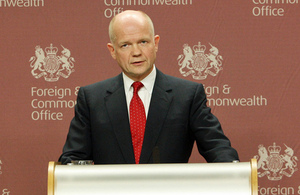 Commenting today after the conclusion of nuclear talks in Geneva between the E3+3 and Iran, Foreign Secretary William Hague said:
I welcome the more positive approach taken by the Iranian Government in nuclear talks between Iran and the E3+3 in Geneva. Foreign Minister Zarif presented a basis for negotiations and there have been serious exchanges with Iran on issues of concern. Diplomats have for the first time begun more substantive discussions with Iran on how to address the international community's serious concerns about Iran's nuclear programme.
I hope that negotiations will lead soon to concrete results. Iran will need to take the necessary first steps on its programme and we are ready to take proportionate steps in return. It is important that we maintain the positive momentum of the negotiations but we should not forget that Iran's nuclear programme is continuing to develop. There is a great deal of hard work ahead, but we must not waste this opportunity.
Further information
Follow the Foreign Secretary on twitter @WilliamJHague
Follow the Foreign Office on twitter @foreignoffice
Published 16 October 2013