News story
Norman Baker visits Newcastle to see alcohol levy
Scheme allows councils to collect contribution towards cost of late-night policing.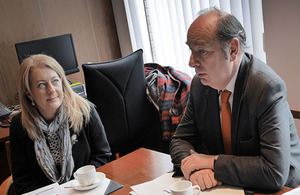 Crime Prevention Minister Norman Baker has visited Newcastle to discuss the city council's introduction of the late night levy.
Newcastle is the first local authority in England and Wales to bring in this power, which allows councils to collect a contribution from businesses selling alcohol towards the cost of late-night policing.
Late night clean-up
Under the scheme, licensed premises selling alcohol between midnight and 6am have to pay an annual amount to help offset the cost to the taxpayer of the late night clean-up.
Crime Prevention Minister Norman Baker said:
The coalition government is taking a wide range of action to tackle alcohol-related crime and disorder. This includes introducing a ban on the worst cases of very cheap and harmful alcohol sales.

We have given local areas the power to restrict the sale of alcohol in the early hours and ensure those who profit from a late night licence help pay towards the costs of policing.
Norman Baker added:
I'd like to congratulate Newcastle City Council on being the first authority to introduce a late night levy.

Alcohol-fuelled crime costs around £11 billion a year in England and Wales and this is clearly an unacceptable burden.

Alcohol, if misused, can cause real harm. I shall be challenging the drinks industry to play a greater role in tackling this.
The levy was introduced last year and authorities must consult locally before introducing it.
Others to follow suit
Newcastle's levy started on 1 November and a number of other councils are expected to follow their example.
Councillor Linda Hobson, Chair of Safe Newcastle, said:
We are grateful to the Minister for finding the time to come and talk to us about the late night levy we've introduced in Newcastle.

We consulted widely with the licensed trade and we will monitor its effects very closely.

It will help to keep the night-time economy in Newcastle vibrant, but more importantly make it an even safer city, which is extremely important to the public and the licensees.
Published 18 November 2013