The New Year Honours lists 2016, published today, recognise the achievements of a wide range of extraordinary people across the UK.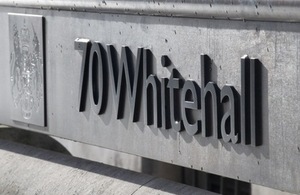 In addition to the honours recipients, this year sees 3 new admissions to the Order of Merit. The Order of Merit is awarded to those who have rendered exceptionally meritorious services towards the advancement of the arts, learning, literature and science. The award is in the personal gift of the Queen, and is limited to 24 living recipients.
The Queen has admitted Professor The Lord Darzi, for medicine, Professor Dame Ann Dowling for mechanical engineering and Sir James Dyson for his work in industrial design.
Recipients stretch from Cornwall, where Mrs Elizabeth Coot receives a British Empire Medal (BEM) for services to fundraising and to the community in Constantine, right up to the Orkney Islands where Mrs Marny Mowatt receives a BEM for her service to the Orkney Agricultural Show.
In total 1,196 people have received an award:
1,044 candidates have been selected at BEM, MBE and OBE level. 329 at BEM, 472 at MBE and 243 at OBE
76% of the recipients are people who have undertaken outstanding work in their communities either in a voluntary or paid capacity
There are 578 successful women candidates in the list, representing 48% of the total
5.7% of the successful candidates come from ethnic minority backgrounds
7.5% of the successful candidates consider themselves to have a disability under the Equality Act 2010
Diversity
Whilst maintaining a broadly equitable gender balance (48% female overall) the New Year's Honours list sees a significant rise in the proportion of awards to women at senior levels (38% female at Knighthood/Damehood/C-level compared to only 31% female at those levels in the 2015 Birthday Honours).
In particular, there are a number of prominent women to highlight, recognised for their support to the UK economy.
Recommendations at DBE include:
Carolyn McCall, CEO, EasyJet
Natalie Massenet, Founder of Net-A-Porter and CEO, Porter Online Magazine
Judith Hackitt, Chair of the Health and Safety Executive
Recommendations at CBE include:
Jacqueline Gold, Chief Executive, Ann Summers and Knickerbox
Nicola Shaw, CEO, HighSpeed 1
Caroline Helen Theobald (Mrs Morse), Founder and Managing Director, Bridge Club Ltd
Dr Tracy Long, Founder, Boardroom Review Ltd
Lyndy Payne, Founder of the Advertising Agency Register and founding member of the Women in Advertising and Communications London Future Leaders Award, now in its 10th year
Other senior awards to women include:
a damehood for Barbara Windsor for services to charity and to entertainment
a damehood for actress, Siân Phillips
a damehood for Glenys Stacey, Chief Regulator and Chief Executive, Ofqual
a damehood for Heather Rabbatts, non-executive Director of the FA and former CEO of Lambeth Council
a CBE for actress, Imelda Staunton
a CBE for Yasmin Sheikh, co-founder of the British Community Honours Awards
a CBE for Annamarie Phelps, voluntary Chair of British Rowing
Local communities
In total, 76% of awards in the New Year's Honours list will go to people who have undertaken outstanding work in or for their local community.
Those who will receive the British Empire Medal (BEM) include 13 year-old Jonjo Heuerman (the youngest recipient on this list) who has raised over £200,000 for the Bobby Moore Fund at Cancer Research UK; and 99 year-old Dorothy Start (the oldest recipient on this list) for over half a century of committed community work in Friern Barnet and charitable giving.
Also receiving a BEM is Richard Tyler who was in charge of the Red Cross Team during the Shoreham Airshow disaster.
World War 2 commemoration
There are a number of awards in this list for services to World War 2 commemoration.
Agnes Grunwald-Spier, Trustee of the Holocaust Memorial Day (HMD), receives an MBE, as does Susan Pollack whose support and advice to HMD helped to shape the content of the UK Commemorative Ceremony.
Those who will receive a BEM include Ivor Perl, an Auschwitz-Birkenau survivor who has been working with the HMD Trust in local communities to highlight the dangers of hatred and the importance of tolerance.
Ebola campaign
There are also a number of awards on this list that recognise outstanding contributions through the Ebola campaign. Awards include:
a knighthood for Dr Michael Jacobs, Clinical Lead in Infectious Diseases, Royal Free London NHS Foundation Trust
a CBE for Dr Timothy Brooks, Head of Rare and Imported Pathogens Laboratory, Public Health England
a CBE for Professor Christopher Bulstrode, Emeritus Professor, Green Templeton College, Oxford and Volunteer, Doctors of the World
an OBE for Grace Jackson, Sierra Leone Programme Manager, DfID
Well-known names
Among the well-known names being honoured are:
a Companion of Honour to Sir Roy Strong for his outstanding contribution to UK cultural life
a knighthood for champion jump jockey, AP McCoy
a knighthood for former television journalist, Martyn Lewis, for his service to the voluntary and charitable sector
a knighthood for the choreographer, Matthew Bourne
a CBE for Denis Law for services to football and to charity
a CBE for Francis Lee for services to football and to charity
an OBE for sports commentator, Sue Barker
an OBE for singer-songwriter, Damon Albarn
an OBE for actor, James Nesbitt
an OBE for actor, David Oyelowo
an OBE for actor, Idris Elba
an OBE for cyclist, Chris Froome
an OBE for snooker player, Ronnie O'Sullivan
an MBE to sports broadcaster, Jacqui Oatley
Philanthropy
The list again includes some significant philanthropists.
The recommendations include:
a knighthood for Clive Cowdery, for services to children and social mobility, who founded the Resolution Foundation in 2005 and personally contributed £20m to the organisation
a knighthood for Jack Petchey who has contributed over £100m since he established his Foundation in 1999 which benefits over 500,000 young people each year
a knighthood for Norman Stoller who added a further £50m worth of shares from his personal investments into the Stoller Trust in 2014 alone
a knighthood for (John) Michael Uren, a major philanthropist in the medical and biotech sectors. Over the past 8 years his foundation has made gifts totalling over £100m.
Parliamentary
The Parliamentary and Political Service Committee, chaired by Lord Spicer, has recommended a knighthood for Henry Bellingham, MP for North West Norfolk; a damehood for Rosie Winterton, MP for Doncaster Central and Opposition Chief Whip; a knighthood for Edward Davey, lately Energy Secretary; a knighthood for Paul Grice, Clerk and Chief Executive, Scottish Parliament; and a knighthood for Lynton Crosby, lately Campaign Director, Conservative Party, for political service.
Education
In total, about 10% of honours are for work in education. The Education Committee has recommended 26 headteachers in total, including:
a damehood for Susan Jowett, Chief Executive of the Spencer Academies Trust
a knighthood for Steve Lancashire, founder of REAch2, the largest primary academy sponsor in the country
Other awards in education include a knighthood for Dr David Collins, first Further Education Commissioner; and a knighthood for Professor Paul Curran, VC of City University, London.
Health
Health makes up 7% of all honours. There is a rich breadth of vocations recognised within the health sector including ten awards for nurses at MBE level.
Awards in health include:
a damehood for Professor Margaret Whitehead, Head of Public Health and Policy, Institute of Psychology, Health and Society, University of Liverpool
a damehood for Professor Lesley Fallowfield, Director, Sussex Health Outcomes Research and Education in Cancer, University of Sussex
a damehood for Professor Til Wykes, Vice-Dean of Psychology and Systems Sciences and Professor of Clinical Psychology and Rehabilitation, King's College London
a knighthood for Harpal Kumar, Chief Executive, Cancer Research UK.
Industry and the economy
Industry and the economy make up 12% of this honours list. In addition to the recommendations from the Economy Committee for damehoods for Carolyn McCall (EasyJet), Natalie Massenet (Net-A-Porter), and Judith Hackitt (HSE), there is a knighthood for Robert Stheeman, CEO, Debt Management Office; a knighthood for Alan Yarrow, lately Lord Mayor of London; and a knighthood for David Norgrove, Chair, Low Pay Commission and Chair, Family Justice Board.
A number of strong entrepreneurs are also recognised including:
a CBE for Anthony Preston, Founder of Pets at Home
an OBE for Simon Devonshire, an entrepreneur who has co-founded six start-ups, three of which are now in multi-million pound revenues
an OBE for Amanda Boyle, Founder and CEO, Bloom
an MBE for Rekha Mehr, Founder, Pistachio Rose
an MBE for Judith Ower, Founder and CEO, Playmob, who won a Talent Unleashed Award in 2014 as a rising entrepreneurial star
an MBE for Alison Lewy, Founder, Fashion Angel
an MBE for Rebecca Bright, Founder, Therapy Box, whose success within the technology market has been inspirational to other women.
Science and technology
Science and technology make up 2.5% of the total. The awards include:
a DBE for Professor Georgina Mace, Professor of Biodiversity and Ecosystems, and Director, Centre for Biodiversity and Environment Research, University College London
a DBE for Professor Henrietta Moore, Director, Institute for Global Prosperity
knighthood for Professor David MacKay, Regius Professor of Engineering, Cambridge University Engineering Department and lately Chief Scientific Advisor at DECC.
Law and order
In law and order, the awards include a CBE for Timothy Dutton QC, Recorder and Deputy High Court Judge; and a CBE for Christopher Stephens, Chairman of the Judicial Appointments Commission. The recommendations for state servants include a KCB for Robert Devereux, Permanent Secretary at DWP; a DCB for Lin Homer, Chief Executive of HMRC; and a knighthood for Jon Day, lately Chair of the Joint Intelligence Committee.
Sport
Awards for Sport make up 4% of the total. In addition to the awards highlighted to AP McCoy (Kt), Denis Law (CBE), Francis Lee (CBE), Ronnie O'Sullivan (OBE), and Chris Froome (OBE), the awards include:
a CBE for John Surtees for services to motorsport, the only person ever to have won World Championships on both 2 and 4 wheels
an MBE for Tracey Neville, Head Coach of the England Netball Squad
an MBE for super bantamweight champion boxer, Carl Frampton
an MBE for Stephanie Houghton, Captain, England Women's Football Team
an MBE for Fara Williams, most capped player of the England Women's Football Team.
Awards to grass-roots Sport include MBEs for Ian Mirfin and Janice Eaglesham, Co-Founders of Red Star Athletics Club in Glasgow for their contribution to disabled sport. The couple won the BBC Sports Unsung Hero award for 2011 at the Sports Personality of the Year ceremony, the first joint winners of the award.
And finally, an MBE has been awarded to Clifford Price (more commonly known as Goldie), for his contribution to the music, TV and film industry and his work with a number of charities along the way.
Further information about the New Year's Honours 2016
Read the full 2016 New Year's Honours list.
Find out more about the honours system.
Published 30 December 2015