News story
New support for biomedical start ups
KQ Labs programme will help young UK businesses to accelerate their promising ideas and turn them into new ways to prevent, diagnose and treat diseases.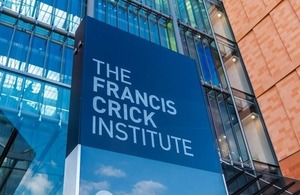 A new accelerator programme will offer £400,000 to UK start ups working in biomedical and data sciences to help them quickly scale up and achieve commercial success.
Called KQ Labs – which stands for Knowledge Quarter – the programme is being funded by Innovate UK and will be delivered by The Francis Crick Institute.
The need to transform the health and life sciences sector
The UK's growing, ageing population is creating a demand for new care technologies, services and treatments that allow people to live long, healthy and independent lives.
If the potential of artificial intelligence is properly leveraged, this could transform the health and life sciences sector and lead to better outcomes for patients.
One way of doing this is to support start ups with bright ideas to accelerate their thinking and translate this into efficient and effective ways to prevent, diagnose and treat diseases.
Help to validate and progress ideas
Up to 10 UK-based start ups will be able to apply for £40,000 each and join the 16-week intensive accelerator programme.
This will involve workshops and training, focusing on a broad spectrum of digital health from drug discovery through genomics applications to patient stratification and imaging analysis. Health Data Research UK and Genomics England will guide the start ups on issues relating to data access.
By the end of the programme entrepreneurs should have developed new skills and understanding to be able to validate their business proposals and help them move towards a commercial launch.
They will also know where to go to access further capital investment and other resources.
About the opportunity
The Francis Crick Institute is recognised globally as a leader in biomedical science research and discovery for its work to understand the fundamental biology underlying health and disease.
Its offices are in the area around King's Cross, Euston and Bloomsbury known as the Knowledge Quarter. Other organisations based here include the Alan Turing Institute, DeepMind, Benevolent AI and the British Library.
Chris Sawyer, Innovation Lead, Digital Health at Innovate UK said:
The KQ Labs is a fantastic initiative that supports Innovate UK's objective to boost UK business growth in the health and life sciences sector. We look forward to helping businesses accelerate their growth and develop new ways to prevent, diagnose and treat diseases.
Dr Veronique Birault, Head of Translation at The Francis Crick Institute, said:
The KQ Labs accelerator represents a unique opportunity to catalyse the creation of a world-class sustainable digital health ecosystem based in London's Knowledge Quarter.

The KQ Labs' vision and programme align with the Crick strategic priorities to collaborate creatively and accelerate translation for health and wealth.
How to apply
Applications are made directly via KQ Labs' website.
Businesses will need to prepare a deck of up to 12 slides. This should include the problem they are trying to solve, the market opportunity, their proposed solution and project milestones.
The deadline to apply is at midday on 7 October 2018.
Published 10 September 2018