Press release
New speed limit guidance for councils
Guidance to help local councils set more appropriate speed limits on local roads published.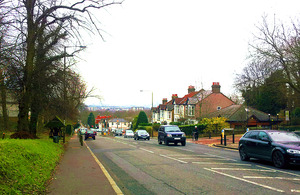 New guidance to help local authorities across England set speed limits has been published today by Road Safety Minister Stephen Hammond.
The updated guidance will help local councils implement more consistent speed limits on local roads and incorporates recent changes that create more flexibility for authorities to implement 20 miles per hour limits and zones.
Stephen Hammond said:
We want to see safe roads which meet the needs of everyone, so it is vital that councils have clear and consistent guidance to help them set appropriate speed limits on their roads.

Local councils should set speed limits based on their local knowledge and on the views of the community. That is why we have launched an online toolkit alongside our new guidance to help councils make the best decisions for their local areas.
The new guidance has been published following an extensive consultation which was held last year, the results of which are also published today on the DfT website.
The online toolkit will enable local councils to calculate the potential costs and benefits of implementing new speed limits. The launch of this toolkit fulfils a commitment in the Department for Transport's 'Strategic framework for road safety' published in 2010.
Related documents
Notes to editors
The new guidance is to be used for setting speed limits on single and dual carriageway roads in both urban and rural areas. Local highway authorities are responsible for determining speed limits on the local road network. A link to the revised guidance can be found on the GOV.UK site.
The objectives of the guidance are:
to provide up-to-date and consistent advice to traffic authorities
to improve clarity and therefore greater consistency of approach when setting speed limits across the country
to enable the setting of more appropriate local speed limits, including lower and higher limits where conditions dictate
to achieve local speed limits that better reflect the needs of all road users
to ensure improved quality of life for local communities and a better balance between road safety, accessibility and environmental objectives, especially in rural communities
The consultation ran from the 13 July 2012 to 5 October 2013 and prompted responses from members of the public, public bodies and interested groups. The full response to consultation can be found on the GOV.UK site.
The new speed limit appraisal tool, which local authorities and the public will be able to download from the GOV.UK website.
Press enquiries: 020 7944 3066
Out of hours: 020 7944 4292
Public enquiries: 0300 330 3000
Published 18 January 2013