Press release
New public sector boost for UK steel
Plans announced for British steel companies to compete on level playing field for public sector contracts.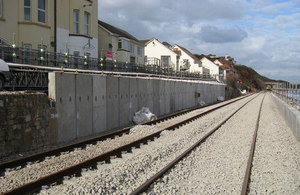 for the first time public sector steel contracts must specifically consider UK steel
new move extends central government requirement to entire public sector including NHS and councils
comes as government continues drive to find long term solution for British steel industry
The government has pledged that British steel companies will be able to compete on a level playing field for contracts across the public sector, under new measures announced today.
With around £300 billion due to be spent on major UK infrastructure projects over the next 5 years, the 2 new initiatives announced today will support steel suppliers' ability to compete with international suppliers for major government and public sector contracts. This is part of the government's plan to secure the long term future of the steel industry in the UK.
Guidance introduced in October 2015 already means that all central government departments must consider the social and economic impact of the steel they source across all major projects, including on HS2, where over 2 million tonnes of steel will be needed. This means that steel contracts for this £55 billion project will not go abroad if the most competitive bid is British.
The government has today announced that, for all relevant contracts, the public sector will be required to adopt these reforms introduced by central government. Public procurements that involve the supply of steel, will need to consider responsible sourcing, the training suppliers give to their workforce, carbon footprint, protecting the health and safety of staff and the social integration of disadvantaged workers.
This will allow buyers across all major projects to take into account the true value of British steel, including its social impact. Contractors working for the public sector will also be required to advertise their requirements for steel so that UK firms can compete.
The government has already taken a number of steps to alter procurement rules to create a level playing field for the sector. In February 2015 it was the first country to put new EU procurement rules into action that emphasise taking account of wider social and economic considerations, including when buying and sourcing steel.
The announcement comes after Business Secretary Sajid Javid visited Tata at Port Talbot this Friday to hear workers' concerns and reassure them that the government was doing all it could to secure a long-term future for the plant, and for British steel.
The Prime Minister will also meet with Carwyn Jones, First Minister of Wales, on Tuesday to update him on the government's ongoing discussions with Tata and our work to support a sales process.
Other steps the government has taken to help secure the future of this sector in the UK include:
moving to exempt energy intensive industries – including steel – from energy costs, which will save industry £400 million by the end of the Parliament
securing flexibility over EU emissions regulations
continuing to tackle unfair trading practices at an EU and an international level
measures imposed in January on reinforcing steel bar imports are already starting to have an effect – imports in January 2016 were 99% down on January 2015
our new steel council met for the first time on 2 March and will look at the longer term future of the sector and how we can strengthen its capability and competitiveness
The government has also announced today that it will establish a list of approved steel suppliers. Companies on this list will meet stringent criteria including high and robust standards around health and safety, environmental impacts, responsible sourcing, supply chain management and training the workforce. Government and its contractors will use the list which will help to ensure a level playing field for those suppliers who meet the criteria.
Matt Hancock, Minister for the Cabinet Office and Paymaster General, said:
We are going further than ever before to support British steel. Taxpayers spend billions of pounds buying steel for public projects. Last year we changed the rules across all central government procurement to ensure buyers take into account the true value of British steel – including local impact and jobs.

The industry is responding positively to this so I want to go further. Now we will apply this guidance across the public sector so that, from operating theatres to new buildings, public sector buyers will need to consider social and economic benefits, alongside value for money. When public bodies buy steel they must take account of the true value of buying British.
Business Secretary Sajid Javid said:
I am determined to make sure we do all we can to secure a sustainable future for UK steel and find a viable solution that supports the workers and wider community.

By changing the procurement rules on these major infrastructure projects we are backing the future of UK steel – opening up significant opportunities for UK suppliers and allowing them to compete more effectively with international companies.
Alun Cairns, Secretary of State for Wales, said:
As a government we have pledged to help the steel industry in any way we can.

Today's announcement that the whole of the public sector now needs to consider the true value of British steel when placing orders is another step that builds on changes to procurement guidelines made last year.

It will open up new opportunities for our suppliers and help them to compete for contracts.
Examples of recent projects which have used UK steel
Network Rail
Network Rail buys approximately 120,000 tonnes of steel for rails per annum directly from Tata Steel in Scunthorpe, which is around 96% of Network Rail's total aggregated demand by value.
Highways England
Despite the changes in UK steel output over the last 5 years, Highways England and its predecessor have continued to invest heavily in UK steel.
During this period Highways England has used a category management framework as the main method of procuring steel gantries for the Strategic Road Network. To date about 95% of this steel has been drawn from Tata Steel in the UK, which equates to approximately 11,000 tonnes of steel. The approximate framework spend is £30 million, of which about 35% will be steel procurement ie raw materials, and will equate to around £10.5 million.
Crossrail
The 57km of steel required for the rails of Crossrail's brand new central tunnel section is being sourced entirely from Tata Steel in Scunthorpe. This equates to 7,000 tonnes of steel. Crossrail Ltd. does not directly procure steel as this is undertaken by their tier 1 contractors and their supply chains. However, Crossrail keeps an oversight of its critical contracts and estimates that 85% of its supply chain providing steel to the project is UK based.
Intercity Express Programme
Finley Structures Limited, based in Newton Aycliffe, provided 2,000 tonnes of structural steel for the construction of the £82 million Hitachi Rail Vehicle Manufacturing Facility in County Durham. The steel came from numerous locations, including Corby, Redcar and Newport. The Hitachi facility will support the introduction of the transformational new fleet of InterCity Express trains.
Thames Tideway Tunnel
Steel structures are among the key requirements for the £4.2 billion project with high numbers of associated skilled construction workers.
MOD aircraft carriers
Tata Steel supplied 40,000 tonnes of steel for HMS Queen Elizabeth and developed 3 entirely new grades of lighter and stronger steel specifically for the future flagship of the Royal Navy. Tata Steel will also supply steel for the second carrier, HMS Prince of Wales.
Published 3 April 2016