Press release
Sajid Javid meeting workers and managers at Port Talbot today
Business Secretary Sajid Javid to visit Port Talbot to help secure the long term future of the steel industry.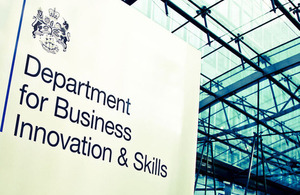 Business Secretary will travel to Port Talbot to meet workers and management
he will say government will use all ministerial, official and diplomatic levers to secure a solution
he will also meet unions, MPs and members of the Welsh Government
All possible ministerial, official and diplomatic influence will be exerted to help secure the long term future of the steel industry, Business Secretary Sajid Javid will tell workers and management on his visit to the Port Talbot steel plant today (1 April 2016).
He will say that once the formal Tata sales process is underway, independent advisors will also be appointed by government. Mr Javid will work with the Commercial Secretary to the Treasury Jim O'Neill, Chancellor of the Duchy of Lancaster Oliver Letwin and Welsh Secretary Alun Cairns – as well as the Welsh Government – in helping secure a buyer for Tata's steel assets following their announcement of their intention to divest their UK assets. As the Prime Minister has already said, government intervention helped ensure that Tata announced a sales process for Port Talbot, rather than immediate closure – allowing ministers to play an active part in finding a sustainable solution, including engaging with the market for potential buyers.
Business Secretary Sajid Javid said:
I'm going to Port Talbot to meet staff and management, who are understandably extremely anxious about their future. I will listen to them, and I want to reassure them myself that the government is on their side in working hard to achieve a long term solution for them, for the region and for the wider UK steel industry.

Whilst we can't change the status of the global steel market, we can and are playing a positive role in securing a sustainable future.
During the visit, his second to the area this year, Mr Javid will also meet members of the Welsh Government, unions and local MPs. Accompanied by Welsh Secretary Alun Cairns he will discuss the current situation and the action that the government has taken thus far. That includes leading the way on free and fair trade for the UK steel industry, measures including compensation on energy costs worth £400 million by the end of the Parliament, flexibility on EU emissions regulations, tackling unfair trading practices in the EU and working to increase government procurement of UK steel. Measures imposed in January on reinforcing steel bar imports are starting to have an effect - imports in January 2016 were 99% down on January 2015.
Published 1 April 2016