New plan for cleaner and more plentiful water
More investment, stronger regulation and tougher enforcement on water companies announced in new government water plan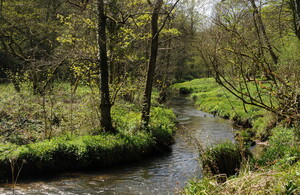 A new plan to clean up our waters and ensure a plentiful supply for the future has been set out by the government today (4 April).
The Plan for Water covers both the water environment – how clean it is – and water resources – how much of it we have.
It brings together the significant action already taken, along with more investment, stronger regulation and tougher enforcement on those who pollute.
It tackles every source of pollution, including from storm overflows, agriculture, plastics, road run-off and chemicals - as well as the pressures on our water resources as a result of hotter, drier summers and population growth.
It includes a commitment to consult on a ban on the use of plastic in wet wipes, responding to public calls to tackle the blight of plastic in our waterways and building on recent action from major retailers including Boots and Tesco. This ban will be subject to public consultation, working with industry and making sure plastic-free alternatives are available to the public.
The public rightly expect water companies, businesses and regulators to do all they can to protect our waterways. That's why the plan will make sure water companies speed up their infrastructure upgrades – bringing forward £1.6 billion for work to start between now and 2025. Farmers will also be supported with an extra £34 million to tackle water pollution and boost food production, with an additional £10 million for farm reservoirs and irrigation.
Under the plan, fines from water companies will be reinvested into a new Water Restoration Fund, making polluters pay for damage they cause to the environment. This fund will deliver on-the-ground improvements to water quality as well as  supporting local groups and community-led schemes which help to protect our waterways.
Tackling the challenges around water quality and resources requires effort across the whole of society, including businesses, regulators, government and households. This will not be fixed overnight, but today's plan sets out a clear way forward for cleaner, plentiful water and to deliver the improvements people want to see.
Secretary of State Thérèse Coffey said:
Our rare chalk streams and world-famous coastlines, lakes and rivers are hugely important to local communities and to nature.

I completely understand the concerns that people have about the health and resilience of our waters, which is why I am setting out this plan for a truly national effort to protect and improve them. That includes higher penalties taken from water company profits which will be channelled back into the rivers, lakes and streams where it is needed.

This is not straightforward, but I take this issue extremely seriously and things need to change. That's why we have developed this plan and we are committed to delivering the progress that people want to see.
Today the government is announcing:
More investment
£1.6 billion of new, accelerated investment by water companies, to spend on new infrastructure to tackle pollution and increase our water resilience - includes £1.1 billion on storm overflow improvements to cut 10,000 discharges
Creating a new Water Restoration Fund, using money from water company fines and penalties – taken from water company profits, not customers – to support local groups and catchment projects like re-meandering rivers and restoring  habitats
Delivering long-term catchment action plans – community-led schemes which aim to improve waterways and surrounding eco-systems – backed up by new funding, to improve all water bodies in England. This follows the credit scheme launched last week by Natural England to offset the environmental impact of new housing developments.
More than doubling the money for slurry infrastructure for farmers to £34 million through the Slurry Infrastructure Grant, with further rounds to be launched later in 2023 and 2024. This will help farmers reduce a major source of water pollution by improving slurry storage, as well as the use of organic nutrients on farms.
Supporting farmers with food production by enabling them to store more water on their land – with a second round of the £10 million Water Management Grant to fund more on-farm reservoirs and better irrigation equipment. We will also reduce planning barriers to small reservoirs.
Leveraging £1 million investment in partnership projects each year to improve chalk catchments to help protect these rare and irreplaceable habitats. This is in addition to taking forward the recommendations from the Chalk Stream Strategy.
Launching a £6.6 million Lowland Peat Research and Development programme in 2023 to identify the best way to reduce emissions from lowland peatlands.
Stronger regulation
Banning sales of wet wipes containing plastic – subject to consultation – and writing to relevant producers and advertising authorities about 'flushable' labelling on wet wipe packaging.
Develop new proposals to restrict the use of 'forever' chemicals (PFAS) found in our rivers and seas – including proposals for a ban on PFAS in fire-fighting foams following recommendations made by the Health and Safety Executive.
Launching a new National Policy Statement on water resources so that key water supply infrastructure – such as reservoirs and water transfer schemes – can be built more quickly.
An earlier deadline for water companies to reduce chemicals in wastewater treatment.
Integrating water and flood planning to target actions where they will have the biggest impact for nature.
Reducing water demand by encouraging water companies to consider how to rapidly increase smart meter installations for household and non-household customers.
Tougher enforcement
Water Minister Rebecca Pow said:
This ambitious plan marks a step change in how we manage our waters - pulling together all the strands of our complex water system, and setting us on a trajectory for a clean and sustainable water supply for future generations.

Crucially, it will ensure that we secure clean water from a healthy environment, where chalk streams are restored and entire catchments - from source to sea - are the focal point.
Environment Agency Chair Alan Lovell said:
Climate change and population growth mean that by 2050 around 4 billion extra litres of water will be needed every day in England. Defra's plan sets out a pathway that integrates action on supply and demand with work on floods and pollution. We must take full advantage of the current public interest to deliver a truly national effort to protect water. This plan sets the trajectory.

I am also pleased to see today's consultation on enabling the Environment Agency to levy much larger penalties for pollution alongside the criminal fines we seek in the courts. Nature must be supported and the polluter must pay. These new measures will help us hold the water industry and others to account.
Ofwat Chief Executive David Black said:
We welcome greater collaboration with our partners in the sector to ensure water companies' actions are focused on better protecting the environment and their customers. Substantial investment is underway to drive improvements and we are tightening rules to ensure companies act responsibly.

This includes action on dividends and bonus payments where performance does meet our expectations, while ensuring the sector remains sufficiently resilient to attract ongoing investment. We also look forward to working with other regulators on matters ranging from affordability to data-sharing.
Natural England Chair Tony Juniper said:
Protecting and improving our freshwater habitats is an essential part of maintaining some of our iconic wetland and river landscapes and for meeting the government's statutory targets for Nature recovery.

It is very positive to see a focus on key Nature recovery priorities, including support for work to improve chalk streams, adding meanders back to rivers and restoring freshwater wildlife habitats. These measures will go hand in hand with our new mitigation scheme to help protect internationally important wetlands from nutrient pollution.

Natural England looks forward to working closely with the government in making the most of this very welcome new plan in protecting and restoring Nature and improving the quality of our freshwater environments, while bringing benefits for farmers, communities and wildlife.
Today's announcement follows the Environmental Improvement Plan in January, the government's five-year delivery plan to protect and restore nature – including ambitious targets on water. The Integrated Plan for Water shows how we will deliver on those targets.
It also builds on recent action – including the Storm Overflows Discharge Reduction Plan published last year, a significant push on monitoring of storm overflows from 7% in 2010 to more than 90% now, and new targets on water companies designed to prioritise key sites like bathing waters.
Published 3 April 2023