Press release
New measures to increase rural home-building
Village greens to get new planning measure.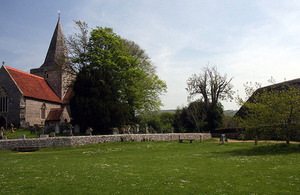 Towns and villages will now find it easier to get the development they need after changes to the village green system that will stop it being abused came in today.
Village green status protects land that is regularly used for recreation but loopholes in the system have increasingly been abused by people looking to stop local development. As well as having a negative effect on the rural economy and reducing the value of land – often by over 90% – this reduces the availability of rural homes, facilities and hospitals across the country.
The changes that come in today means it will no longer be possible to block local development by making spurious village green applications.
While legitimate applications will remain well-protected, changes to the system will also save local authorities £1.3 million a year, as applications often lead to expensive and time-consuming public enquiries and court cases.
This money can be invested in local amenities, transport and other much-needed rural provision. Businesses will also make an expected annual saving of £3.4 million, which will help boost regional job creation.
Rural Affairs Minister, Richard Benyon said:
Towns across the country have been held back from getting the developments they want through misuse of the village green system. Rural communities need access to services like healthcare, schools and housing just as much as urban areas. These changes will allow that infrastructure to be built, creating jobs and economic growth.
Stuart Ropke, assistant director of policy and research at the National Housing Federation, said:
Rural communities are some of the hardest hit by the housing crisis. A lack of housing means young people can't stay where they grew up and couples can't put down roots in their village and raise a family. Local businesses such as pubs and shops, which are already struggling to stay open, face a bleak future.
Building just a small number of homes will save these vibrant communities in Britain's treasured countryside. Many want new homes, but opponents have often abused the system and attempted to declare available land a village green.
Closing this loophole will help rural communities get the homes they so desperately need – housing local people, keeping schools and post offices open and helping rural communities to stay alive.
From now on, applications relating to land which is regularly used for local recreation will have to be made within a year of the land's use, rather than two. Similarly, landowners will be encouraged to allow local communities to make use of their land, as they will be able to protect it being registered as a village green through new landowner statements.
In April, the government took the first step in reducing village green abuse, by closing a loophole that made it possible to submit a village green application on land which had already been earmarked for development.
These reforms form part of the Growth and Infrastructure Act 2013, following the 2010 Penfold Review.
Further information
Published 1 October 2013