Press release
New flag flying high as the County Durham celebrates
In celebration of the first County Durham day the county's new flag has taken pride of place outside the department's offices.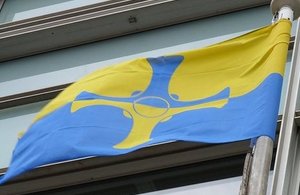 County Durham day is being celebrated on 20 March and helps mark the ceremonial county's proud heritage of farming, mining and being at the heart of the railway industry.
To recognise the day in London, the blue and yellow of the county's recently designed flag was raised high outside the offices of the Department for Communities and Local Government.
County days, flags and historic counties are an important part of English history with many dating back thousands of years and the government is keen that people are encouraged to mark these strong traditions.
People should take pride in their local identities and continue to champion them irrespective of current tiers of local administration.
Communities Secretary Eric Pickles said:
I'm delighted we are able to recognise County Durham's day and fly this new flag in the heart of the capital.
James Moffatt the designer of the flag said:
As the designers of the County Durham flag, my daughters and I chose this particular design to reflect the cultural heritage of County Durham. This flag gives our beloved county a visible symbol which unites us all, moving us forward from our glorious past towards a proud future. We are delighted to celebrate the first County Durham day with our new and distinguished flag.
Working with the independent Flag Institute, the government is encouraging more local communities to create their own local flags.
The government has already relaxed the rules relating to the flying of flags to make it easier for a wider range of flags to be flown without the need for express consent which could cost up to £335. The changes will increase the number of flags people can fly, helping promote integration and community spirit.
Office address and general enquiries
2 Marsham Street
London
SW1P 4DF
Contact form http://forms.communiti...
General enquiries: please use this number if you are a member of the public 030 3444 0000
Published 20 March 2014