New figures show high blood pressure costs NHS billions each year
How we can all contribute towards improving the prevention, detection and management of high blood pressure.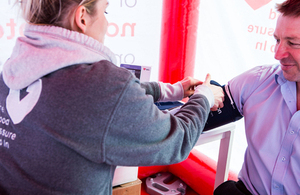 New figures from Public Health England (PHE) reveal that diseases caused by high blood pressure are estimated to cost the NHS over £2 billion every year.
Over 5 million people are unaware they have high blood pressure yet it affects more than 1 in 4 adults and is one of the biggest risk factors for premature death and disability in England.
High blood pressure can lead to diseases including heart disease, stroke, vascular dementia and chronic kidney disease.
High blood pressure, which can often be prevented or controlled through lifestyle changes, accounts for 12% of all visits to GPs in England.
The new figures show:
by reducing the blood pressure of the nation as a whole, £850 million of NHS and social care spend could be avoided over 10 years
if just 15% more people, unaware they have high blood pressure, are diagnosed, £120 million of NHS and social care spend could be avoided over 10 years
if another 15% more people, currently being treated for high blood pressure, controlled it better, a further £120 million of NHS and social care spend could be avoided over 10 years
PHE and a number of partners across local and national government, the health service, voluntary sector and academia have come together with the ambition of improving the prevention, early detection and management of high blood pressure in England.
The new group today publishes an action plan setting out the steps towards emulating the success of other countries, such as the US and Canada. Both the US and Canada have higher levels of treatment and better control of high blood pressure which has led to lower death rates from heart disease and stroke.
Sonya Brennan from Lewisham said:
I was diagnosed with high blood pressure after I had an NHS Health Check and it was a big wake-up call for me. I was very surprised as I had no symptoms but it has encouraged me to get active and I was referred to a health trainer. I've now lost 5 stone and lowered my blood pressure.
Public Health Minister Jane Ellison said:
Any new initiative which will improve people's health and wellbeing as well as saving the NHS money is to be applauded. Our goal is to prevent people from developing high blood pressure in the first place – by helping people to eat better, lose weight, exercise more and reduce stress. More and more people every year are taking advantage of the essential advice being offered through the free NHS Health Check, and I would encourage everyone invited to a free Health Check to take up the offer.
Dr Janet Atherton, President of the Association of Directors of Public Health said:
Our challenge now is to implement rapidly and comprehensively. Population prevention measures, such as reducing salt in the diet and tackling obesogenic environments, alongside better early detection and treatment, will mean that rapid improvements in the public's health can be achieved, together with significant savings to a hard-pressed health and social care system.
Professor Huon Gray National Clinical Director for Heart Disease for NHS England said:
Over half of all strokes and many heart attacks could be prevented by ensuring people take steps to get their blood pressure into the normal range. Unfortunately, high blood pressure often goes unrecognised.

It's essential that everyone has their blood pressure checked regularly and by taking simple steps like cutting some salt from the diet, or taking more exercise, high blood pressure can be reduced. Left untreated high blood pressure can lead to disability, or even death.
Ends
Notes to editors
PHE has launched a new blood pressure quiz on NHS Choices. People can now test their knowledge of one of the most common, yet often preventable, conditions.

The Blood Pressure System Leadership Board was set up to oversee the collective programme of work on blood pressure including development of this action plan. Chaired by Public Health England, its wider members are Association of Directors of Public Health, Blood Pressure UK, British Heart Foundation, British Hypertension Society, Department of Health, Faculty of Public Health, Local Government Association, NHS England, NHS Improving Quality, Pharmacy Voice and the Royal College of General Practitioners

The board's action plan sets out the ambition of improving the prevention, early detection and management of high blood pressure. It shows the roles different partners can play to tackle this important issue. See Tackling High Blood Pressure: From Evidence into Action.

PHE is making a resource hub bringing together case studies, data and guidance to support local leadership on high blood pressure. See High blood pressure: plan and deliver effective services and treatment.

Optimity Matrix carried out a new economic review as part of the evidence considered in developing the board's work. Their economic work underpins the financial figures in this release.

Key lifestyle steps to prevent or help manage high blood pressure include losing weight if you need to, eating a healthy diet (rich in fruit and vegetables, low in salt), exercising regularly, and cutting back if you drink a lot of alcohol.

The NHS Health Check is an opportunity to engage 15 million people to live well for longer. People aged 40 to 74 in England are assessed and enabled to take control over their own health, taking early action to reduce their risk of developing serious health problems such as heart disease, stroke, kidney disease, type 2 diabetes and certain types of dementia.

Public Health England exists to protect and improve the nation's health and wellbeing, and reduce health inequalities. It does this through advocacy, partnerships, world-class science, knowledge and intelligence, and the delivery of specialist public health services. PHE is an operationally autonomous executive agency of the Department of Health. Website: www.gov.uk/phe Twitter: @PHE_uk, Facebook: www.facebook.com/PublicHealthEngland
Published 18 November 2014