New Director General of Border Force announced
Sir Charles Montgomery has been appointed as the new Director General of Border Force.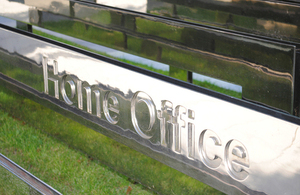 Sir Charles has enjoyed a distinguished career in the Royal Navy, attaining most recently the role of Vice Admiral - Second Sea Lord and Chief of Naval Personnel and Training. During his career he has held a variety of sea-going and land-based roles, including Naval Secretary and Chief of Staff (Personnel), Head of the Maritime Warfare School and command of a major warship.
Border Force
Commenting on the appointment, the Home Secretary, Theresa May, said: 'I am pleased to announce the appointment of Sir Charles Montgomery as the new Director General of Border Force.  Sir Charles will bring a huge amount of experience and superb leadership skills to this vital job, protecting our border.  I very much look forward to working with him.'
Sir Charles Montgomery said: 'I am delighted to have been appointed to this important role.  The Border Force is fundamental to the UK's national security and prosperity and I look forward to leading its staff to deliver success in what I am sure will be a very challenging but rewarding period.'
Biography
Charles Montgomery was born in Rotherham in 1955, grew up in Sheffield and went to school at Uppingham, Rutland. 
He joined the Royal Navy through BRNC Dartmouth in 1973, spending his first three years in service at Sheffield University, gaining an honours degree in Electronic and Electrical Engineering.
In his early years in the service he served in a variety of frigates and in a minesweeper, following a traditional career path for a young warfare officer.  He also served in the Royal Yacht as the Household Liaison Officer and a bridge watchkeeper.
As a Principal Warfare Officer, he was the Underwater Warfare and Operations Officer in HMS Amazon and then the Naval Assistant to the Commander-in-Chief Fleet and the Commander-in-Chief Channel at the joint, RN and NATO HQ at Northwood. 
After a tour as the Executive Officer and second in command of HMS Hermione, he was promoted to Commander and assumed command of HMS Beaver, undertaking operational deployments to the Gulf, Asia Pacific and North Atlantic.
Responsibility in early staff appointments included formulating central Defence policy in the maritime domain and outside NATO; and generating the Royal Navy's Strategic Plan to deliver the service's capability out to the 20 year horizon. 
As the Training Director of the Naval Recruiting and Training Agency he held Board level responsibility for training policy and delivery of the organisation's principal output.  He was also a Private Secretary to the Secretary of State for Defence, serving two administrations.
As a Commodore his appointments included three years as the Director of Naval Personnel Strategy, which included responsibility for the formulation and delivery of the wide ranging Navy Board Personnel Change Programme; and command of HMS Collingwood and the Maritime Warfare School, the largest naval training establishment in Western Europe. 
On promotion to Rear Admiral he became the Naval Secretary and Chief of Staff (Personnel), with responsibility for all policy and plans governing Naval Personnel, and for their deployment.  He was appointed to be Second Sea Lord and Commander-in- Chief Naval Home Command in July 2010, with Navy Board responsibility for all Personnel and Training issues.  He was awarded KBE in the 2012 Queen's Birthday Honours List.
Charles Montgomery is married with three sons and one daughter.  His hobbies include most sports (though mostly now as a committed supporter), outdoor pursuits and fighting a losing battle with his garden.
Published 25 January 2013