Press release
New chair appointed to government's Shareholder Executive
Robert Swannell has been appointed to chair the Advisory Board of the government's Shareholder Executive (ShEx).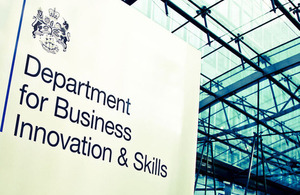 Robert Swannell has been appointed to chair the Advisory Board of the government's Shareholder Executive (ShEx).
The appointment of Robert Swannell will bring significant corporate finance knowledge and experience to ShEx and help deliver its aims to be an effective shareholder of businesses owned by the government.
Robert Swannell, a chartered accountant and barrister, has been the Chairman of Marks and Spencer since January 2011 having previously spent more than 30 years with Schroders/Citigroup. He will start the new role in September 2014 and has been a non-executive director for ShEx since January 2014.
Business Minister Michael Fallon said:
I'm delighted that we have been able to attract someone of Robert's stature to this key position. His balance of experience between the City and the wider commercial world will be a real asset to the Shareholder Executive's important work. I would like to thank Patrick O'Sullivan for his commitment and contribution while chair.
Chief Executive of the Shareholder Executive Mark Russell said:
Robert Swannell brings an extensive range of skills and expertise to the Shareholder Executive board spanning corporate finance, corporate recovery and capital markets. Both his considerable experience working in government and his corporate finance expertise will be vital in helping us meet the challenges and opportunities ahead.
Robert Swannell said:
I am looking forward to taking on this role and, with the board, supporting the work of Mark Russell and the team at the Shareholder Executive. Their work is important in ensuring that commercial rigour is applied to the relationships between government and certain publicly owned entities and in providing high quality corporate finance advice to government departments on a wide range of issues.
The current chair, Patrick O'Sullivan, will stand down at the end of an extended tenure, at the end of August 2014.
The new chair will be joining ShEx as it leads on the creation of a cross-government corporate finance profession to further boost the increasing commercial awareness of Whitehall.
Notes to editors:
1.The Shareholder Executive (ShEx) is part of the Department for Business, Innovation and Skills, but a large part of its work is carried out for other government departments. ShEx was formed in 2003 with a mandate to improve the government's performance as a shareholder of publicly-owned businesses. It now has a portfolio of around 20 businesses in which government has a shareholding, and works with departments and management teams to help these businesses perform as commercially as possible. ShEx has developed a wider role as a specialist provider of corporate finance advice across government, which includes advising on asset sales, launch aid and broader forms of assistance for other significant government projects.
2.The candidate was selected through an open and fair process after the position was advertised on the Cabinet Office Public Appointments website. Candidates were assessed through application and interview, against 4 themes; their career to date, experience of corporate finance, experience of working with government, and their knowledge of ShEx.
3.The chair is appointed by the Secretary of State for Business, Innovation and Skills, and the key responsibility of the chair is to lead the Shareholder Executive Advisory Board which advises the government on its role as shareholder of varied businesses, and how to maximise value for the taxpayer.
4.Biography:
Robert Swannell currently serves as a Non-Executive Director on the ShEx Board (joining in January 2014), and has been Chairman of Marks and Spencer since January 2011. He also holds a number of educational board positions. Robert Swannell spent over 30 years in investment banking with Schroders/Citigroup, becoming Vice-Chairman of Citi Europe and Co-Chairman of Citi's European Investment Bank. He has been Chairman of HMV, and Senior Independent Director of both The British Land Company and 3i Group. His public sector experience includes the Regulatory Decisions Committee of the Financial Services Authority, the Takeover Panel Appeal Board and the Industrial Development Advisory Board (IDAB). He is a Chartered Accountant and Barrister.
5.Working with other central government departments, particularly HM Treasury and Cabinet Office the Shareholder Executive plays a wider role as a corporate finance resource within government. This includes advising on launch aid and regional and industrial assistance.
6.The ShEx Board normally meets 6 times a year, and on such other occasions as the chair, in consultation with the CEO, deem appropriate.
7.The current ShEx Board Membership is:
Independent chair
Non- Executive Directors
Claudia Arney
Gerry Grimstone
Jeremy Pocklington (HM Treasury representative)
Robert Swannell
Robin Lawther
Executive Directors
Mark Russell - Chief Executive
Roger Lowe - Director for Portfolio Unit
Anthony Odgers - Director for Corporate Finance Practice
Ceri Smith - Director for Business Bank and Public Data Group
Published 27 May 2014