New aviation passenger charter to improve flying experience
Charter will promote best practice ensuring improvements for passengers throughout their journey.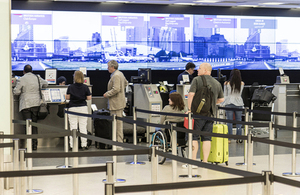 New charter for airlines and airports designed to enhance customer experience.
Measures to support passengers with disabilities and other needs.
Collaborative approach between government, industry and regulator to further drive up service standards.
Today (7 December 2018) during a visit to Gatwick airport, the Aviation Minister Liz Sugg will outline the first proposed measures from the government's upcoming aviation strategy consultation.
Building on the positive steps already taken by industry, the consultation proposes the creation of a new 'passenger charter' to be adopted by airlines and airports, and backed by the government.
Through a partnership between industry and government, the charter will promote best practice and create a shared agreement of the required service levels for passengers, ensuring improvements are felt throughout their journey.
A major focus of the charter centres on improving the flying experience for passengers with disabilities, providing clarity on the assistance that should be provided to people travelling with reduced mobility and hidden disabilities.
The government has worked with industry, including disability advisory groups, to put forward a number of proposed measures including:
strengthening accessibility standards for airports and introduce new standards for airlines
ensuring better training for airport and airline employees
raising awareness among disabled passengers of their rights to assistance and how to obtain it
improving storage standards for wheelchairs and waiving limits for compensation payments
working with industry to achieve the long term goal of passengers being able to fly in their own air-worthy wheelchairs
Performance against the charter will be monitored and regularly reviewed publicly by the Civil Aviation Authority (CAA), which has already made significant progress in this area, including a new system of measuring the performance offered by airlines, as well as airports.
And action will be taken if improvements aren't made voluntarily, bolstered by an extension of legal standards and enforcement powers for the CAA, including fines for breaches of accessibility and compensation measures.
The charter will also set out service level standards for all passengers for timely and simplified resolution of complaints and claims for compensation when flights are disrupted to improve the service offered to passengers.
It will incorporate work already undertaken by the CAA in reviewing the transparency and fairness of airline terms and conditions, including allocated seating and other unclear charges.
Aviation Minister Liz Sugg said:
Our fantastic aviation industry connects passengers to destinations across the world with some of the best fares available.

But we are determined to work with industry to continue to drive up service levels and the new passenger charter aims to improve the experience of all passengers when they fly.
Visiting Gatwick airport to see its accessibility facilities, Aviation Minister Liz Sugg was joined by Accessibility Minister Nus Ghani to discuss how the Charter could benefit passengers with disabilities.
Accessibility Minister Nusrat Ghani said:
We need to address the fact that 57% of disabled passengers say they find flying and using airports difficult.

That's why our proposed passenger charter includes measures designed to make real changes that will improve the accessibility of flying, building on the ambitions set out in our Inclusive Transport Strategy earlier this year.

We are committed to continuing the progress the industry has already made in making the aviation network truly open to all.
Gatwick airport has introduced new facilities for passengers with disabilities, including security lanes and a specially built lounge specifically designed for passengers who require assistance.
The passenger charter will be proposed as part of the government's aviation strategy consultation later this year, which will be consulted on for 16 weeks before the finalisation of the government's policy in 2019.
Chris Woodroofe, Gatwick's chief operating officer, said:
Flying can be a challenge for people with a disability and airports, in partnership with airlines, can change that by improving their practices and infrastructure so that everyone has an equal opportunity to fly.
A Virgin Atlantic spokesperson said:
Providing the best possible experience for our customers is at the forefront of everything we do. We're always exploring new ways to enhance this, particularly for our customers who need more assistance; whether that's familiarisation days on our aircraft, or the latest technology advancements, including our new inflight entertainment designed for our customers with sight loss. We look forward to building on these initiatives and many more with the support of the government and a new aviation strategy.
Chris Wood, Flying Disabled Founder, said:
Flying Disabled look forward to working with government and industry on the proposed new aviation passenger charter to enhance the flying experience for disabled passengers and truly open it up for all, including on our long-term aspiration of passengers being able to fly in their own wheelchairs.'
Chief Executive of the AOA, Karen Dee said:
CAA figures show that more than 8 in 10 people had a good experience on their most recent flight, demonstrating that the UK aviation industry is offering a great experience for passenger. Nevertheless, as an industry we are always looking to build on our success. As part of that, we look forward to working with government through the aviation strategy on a passenger charter to further improve the experience for all passengers.
Tim Alderslade, Chief Executive of Airlines UK, the industry association that represents 13 UK carriers, said:
Delivering for the consumer is at the heart of an airline business. UK airlines operate in one of the most competitive sectors in the world, and look forward to working with government towards a new aviation strategy that will help them continue to do what they have always done best - connect UK families and businesses domestically and to the world, deliver tremendous value for money, and further improve the travelling experience for all passengers.
Anthony Smith, chief executive of the independent watchdog Transport Focus, said:
Transport Focus is pleased to see the Department for Transport proposing to extend our work to include air passengers.

We welcome the opportunity to bring our consumer focused, useful and evidence-based approach to this important sector.
Aviation, Europe and technology media enquiries
Media enquiries 020 7944 3021
Out of hours media enquiries 020 7944 4292
Switchboard 0300 330 3000
Published 7 December 2018