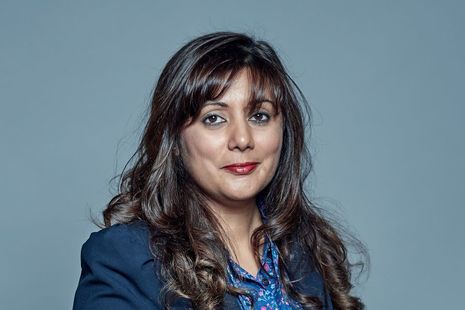 Biography
Nusrat Ghani was appointed Minister of State at the Department for Business, Energy and Industrial Strategy in September 2022.
She was previously Parliamentary Under Secretary of State at the Department for Transport from January 2018 to February 2020.
Nusrat was a Government Whip between July 2019 and December 2019, and an Assistant Government Whip from January 2018 to July 2019.
Education
Nusrat was the first woman in her family to be formally educated. She attended state comprehensive school before studying at Birmingham City University (BA Government and Politics) and Leeds University (MA International Relations).
Political career
Nusrat was elected Conservative MP for Wealden in 2015.
In parliament Nusrat has been a member of a number of Select Committees, including:
Business Energy and Industrial Strategy Select Committee (2020 to 2022)
Speaker's Committee on the Electoral Commission (2017 to 2018)
Foreign Affairs Committee (2017 to 2018)
Armed Forces Bill Committee (2015)
Home Affairs Committee (2015 to 2017)
Most recently, in her role as a member of the BEIS Select Committee, she has led on a number of enquires, including a probe into the use of Uyghur slave labour in UK supply chains.
Nusrat was part of the UK delegation to the NATO Parliamentary Assembly from 2020 to 2022 and the Rapporteur of the Science and Technology Committee.
For her work in raising awareness of the plight of Uyghurs in Xinjiang, Nusrat was nominated for the NATO Women of Peace and Security Prize, finishing runner-up to the Honourable Nancy Pelosi, Speaker of the United States House of Representatives.
Career outside politics
Before beginning her career in politics, Nusrat was employed by the charities Age UK and Breakthrough Breast Cancer, and later for the BBC World Service.
Minister of State (Minister for Industry and Investment Security)
Responsibilities include:
advanced manufacturing, including aerospace, Made Smarter, defence
automotive, including the Office for Zero Emission Vehicles
infrastructure and materials, including steel, energy intensive industries, chemicals, construction
life sciences, including vaccine production
professional and business services
maritime and shipbuilding
critical minerals and critical mineral supply chains
industrial decarbonisation
economic shocks
supply chains
levelling up and regional growth
investment pipeline and opportunities
Investment Security Unit
skills
retained EU law and Brexit opportunities
better regulation
Previous roles in government
Announcements