World news story
Needs of victims/survivors of conflict-related sexual violence and their children
British government supported a report by UN Women, drawing attention to the issues that survivors of sexual violence in conflict face, and made recommendations to tackle them.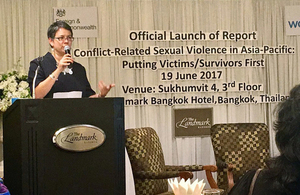 Armed conflicts, civil unrest and internal crises have created ongoing challenges for the protection of women and girls across Asia and the Pacific. They are among the most vulnerable and their rights have been violated, including through sexual violence.
Often the victims and survivors of sexual violence and their children are forgotten about and their specific needs are not addressed.
On 19 June, UN Women, with support from the British Government, are releasing a report aimed at tackling this, drawing attention to the problem, and giving recommendations to support survivors of sexual violence in conflict.
The report, "Conflict-related Sexual Violence in Asia-Pacific: Putting Victims/Survivors First" addresses the needs of conflict-related sexual violence victims and their children and provides innovative solutions.
The UN Women study documents that, during some periods of conflict, sexual violence against women has been devastatingly pervasive. Women have been captured and abused while in detention, and many have been subjected to repeated rape and 'forced marriages' with soldiers or militia.
Despite a growing demand to hold perpetrators accountable for their actions, less recognition has been given to the health, psycho-social and economic needs of victims, survivors and their children, including those born of rape in conflict.
The report recommends that women, especially those subjected to conflict-related sexual violence, need access to sustainable livelihoods, legal rights to inheritance, and to own land and resources in order to address the economic impact of these violations.
The British Embassy Bangkok's Deputy Head of Mission, Margaret Tongue, said;
The British government is proud to have supported UN Women in its work on this innovative report - as a key part of our global effort to eliminate sexual violence in conflict. In addressing these issues it is vital to maintain a focus on the victims and survivors of sexual conflict, keeping them at the heart of the policy approach and recognising their wider needs.
Hanny Cueva-Beteta, UN Women's Regional Advisor on Governance, Peace and Security noted the report's finding that National Action Plans on women, peace and security in Asia have rarely addressed the needs of victims of sexual violence in conflict. He said;
None have tackled inheritance and land rights, which are key issues for victim/survivor economic empowerment and the sustainable livelihoods for them and their children. This needs to be addressed.
Featuring an independent research paper, policy analysis, and case studies from Nepal and Sri Lanka, the publication is the first of its kind. It aims to understand the practical and strategic needs of conflict-related sexual violence survivors and their children better, and to identify priorities for action.
Published 20 June 2017