News story
National Careers Service launch "here for you" campaign
The campaign uses YouTube videos delivered through social media to provide people with an action plan to meet their career objectives.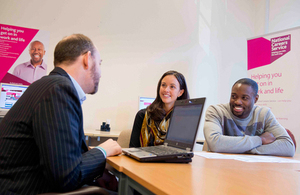 Long-term unemployed people rely heavily on careers advice and support during January, according to new research released by the Skills Funding Agency's National Careers Service.
50% of careers advisers questioned by the National Careers Service reported more demand from long-term unemployed for inspiration, advice and guidance at this time of year.
Key findings from the research include:
more than three quarters (77%) of advisers say that January is the time of the year, when people need most help from the National Careers Service

data from the National Careers Service shows that advisers received over 20,000 calls in January 2013.
The National Careers Service "Here for You" campaign will use simple, engaging and relevant YouTube videos delivered through the National Careers Service social media channels, to provide people with a tangible action plan to meet their career objectives.
Skills and Enterprise Minister Matthew Hancock said:
"The National Careers Service provides sound advice and inspiration to people at any stage of their career, from those starting out, to those wishing to progress to the next level.
"With a record number of jobs available, the National Careers Service provides guidance to help people into productive careers that benefit not only themselves and the businesses they work for, but also the country's economy giving us the ability to continue growing from a stable platform."
National Careers Service Adviser, Tracey Bell, added:
"Most people expect to have a bit of a break in January, as businesses are often a little slow during this month – but for careers advisers it's the busiest time of year!
"Many people use the Christmas break to assess and re-evaluate what is important to them and this often leads to a shift and change in priorities. The reassessment can be in all parts of life, one of which is often work."
Visit the National Careers Service website for more information.
Published 16 January 2014