Press release
Nation gets behind VE Day 70 as the Palace confirms the Queen's attendance
The Queen will attend a service of thanksgiving for VE Day 70 and communities are encouraged to take part in the celebrations.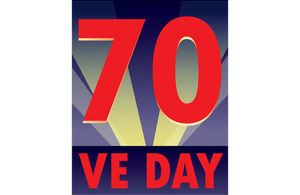 Today, Buckingham Palace has announced that Her Majesty The Queen and members of the Royal Family will attend a service of thanksgiving to commemorate the 70th anniversary of Victory in Europe (VE Day) on 10 May 2015. People across the UK are also marking this milestone by attending or organising their own events as the nation comes together to celebrate.
The Queen and the Duke of Edinburgh, accompanied by the Prince of Wales and the Duchess of Cornwall and other members of the Royal Family, will attend a Service of Thanksgiving at Westminster Abbey to mark the 70th anniversary of Victory in Europe.
The announcement from the Palace comes as more details of how people are celebrating VE Day 70 are revealed. Communities are being encouraged to organise or take part in celebrations that will celebrate the extraordinary generation who played such an important role in defending our country.
There are many ways people can get involved, from attending or hosting a street party or picnic, to watching a special V-shaped beacon being lit in their community, or listening out for the bells ringing in their local cathedral or church. The public are being invited to share their plans on the newly launched VE Day 70 events map.
Veterans of the Second World War are being encouraged to take a leading role in the national commemorations. Last week the Royal British Legion invited veterans to join the national commemorations in London and funding for travel has been made available for veterans and their carers.
Barbara Weatherill, 89, from Selby, North Yorkshire, was serving in Sunderland in the Army in 1945.
I'd heard the news about the war being over but couldn't celebrate as I had to transport rations to another Army base.

The journey took twice as long, as the streets were filled with people celebrating and having a great time.

It will be fantastic to see some of that joy again in the celebrations to mark the 70th anniversary.
How to take part
Friday 8 May
VE Day itself (Friday 8 May) will be a day of Remembrance. People are encouraged to get family and friends together to watch one of 100 beacons being lit across the UK. For example:
Blackpool's world-famous Tower will be illuminated in red, white and blue for VE Day, using thousands of LEDs. There will also be a beacon shining from the Tower Top looking out to sea on both Friday 8 and Saturday 9 May
the community on Unst, the most northerly populated island in the British Isles, are planning to light their own beacon on the top of Saxavord, the highest point of the island. The location looks out to sea on one side and down over the rest of Unst, allowing the beacon's shining light to be seen for miles
Details of how to arrange the lighting of a beacon can be found here. To find out where the nearest beacon is, visit the web map, where all the beacon sites will be added over the coming weeks.
Saturday 9 May
Saturday 9 May will be a day of Celebration, with a moment of noise. Ships will be asked to sound their horns, sporting associations to mark the occasion during sporting matches with clapping or song, and cathedrals across the country, from Durham to Canterbury, will be invited to ring their bells in celebration from around 11am. For example, Llandaff Cathedral in Cardiff will participate in the national bell-ringing celebration, and on Sunday 10 May, the cathedral will hold a service of thanksgiving. The Very Rev. Gerwyn Huw Capon, Dean of Llandaff, said:
I am delighted to be involved in the national celebrations of thanksgiving for the 70th Anniversary of the Victory in Europe.

The cathedral will be holding a service of remembrance and thanksgiving on the afternoon of Sunday 10 May, at 3.30pm.

The cathedral will join other cathedrals and churches throughout the kingdom in ringing a full peal of bells on Saturday 9 May.
If you would like to know if the cathedrals or churches in your area will be taking part or if you would like to tell us you are taking part, go to our VE Day 70 events map in the coming weeks.
Sunday 10 May
Sunday 10 May will be a day of parties, with the public invited to set up their own street parties and picnics. Hopes are that community halls, public spaces and homes will be decked with bunting and playing music to recreate the celebrations of 70 years ago. Local Authorities are making it easier for people to host street parties across the country. For example, Councillor Stuart Hughes, Devon County Council Cabinet Member for Highway Management, said:
This is another momentous national occasion. We want Devon to be part of the celebrations and we saw during the Queen's Diamond Jubilee, when more than 140 street parties were held across Devon, that these events are a great way to bring communities together.

The notice period has been reduced to five weeks, but there isn't much time to apply so we would ask anyone planning a street party to let us know about it as soon as possible.
If you are interested in holding a street party please contact your Local Authority as soon as possible for guidance. If you have a match that weekend, consider joining thousands of others across the country by marking VE Day 70 with a moment of applause. In the coming weeks, further plans will be announced to mark the 70th anniversary of VJ Day, which will include a day of major events on 15 August 2015.
To find out more about the events taking place across the country, to organise your own event or to tell us about your event, please visit our website, where you can add to our special map of all the events across the country.
If you are a veteran and would like to take part, visit British Legion VE Day 70 or phone 0808 802 8080.
Notes to editors
For further information, please contact:
commemorative beacons: Bruno Peek - 07737 262 913]
veteran accreditation: Royal British Legion - Becky Warren, 07824 301 072
local authority involvement and street parties: DCLG - Rhodri Jones, 030 3444 1143
cathedral bells: Department of Culture Media and Sport Press Office - 020 7211 2210 or 07699 751 153 (out of hours)
Published 3 April 2015