Press release
More than 340,000 healthcare workers take up flu vaccine
Latest vaccination figures reveal that 36.8% of frontline healthcare workers had influenza vaccinations in September and October 2014.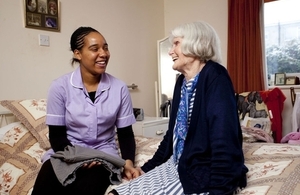 Figures published today (20 November 2014) by Public Health England (PHE) show that more than 340,000 frontline healthcare workers in England had a flu vaccination in September and October this year.
The figures reveal that 36.8% of the frontline healthcare workforce have been vaccinated against flu already this winter, compared to 35% of workers who were vaccinated in the same period in 2013 to 2014.
But, while the data indicates a positive start to the flu vaccination programme for healthcare workers in England, flu experts are warning that more workers need to take up the vaccine to help protect vulnerable patients this winter and help save lives, while keeping NHS services running as normal.
Professor Nick Phin, flu expert for Public Health England, said:
Last year's flu season was less severe than some we have seen but flu is an unpredictable virus and it is impossible to predict the impact that the disease will have on our communities and health services this winter, as new strains can circulate each year with varying impact.

This reinforces the need for annual flu vaccination among key groups including health and social care workers. The vaccine is safe and effective and cannot give you flu.
Professor Keith Willet, National Clinical Director for Acute Care, NHS England, said:
As professionals it is part of our duty of care to patients or residents to do everything in our power to protect them against infection, including being immunised against flu.

We are approaching our busiest season in the health service, when flu outbreaks become a greater risk to our patients and the way we deliver care. The impact of the virus on frail and vulnerable patients can be serious, even fatal, and outbreaks can cause severe disruption in communities, care homes and hospitals. It is vital that we take steps to protect those we care for, including our colleagues, family and friends by getting vaccinated against flu.
The annual campaign to drive-up these NHS staff vaccination rates is called flu fighter (@NHSflufighter, #flufighter).
Run by NHS Employers (supported by the Department of Health and Public Health England), flu fighter is once again providing employers with all the resources they need to help their staff run lively local campaigns which promote vaccinations, answer questions and improve access to them.
Flu fighter is now in its fourth year, and helped the NHS to increase frontline staff flu vaccinations from 359,080 (34.7%) in 2010 to 2011 to 534,090 (54.8%) by the end of last winter.
Danny Mortimer, chief executive of the NHS Employers organisation, said:
This is an even stronger start than we had last year, when all records were broken and over half a million NHS staff were vaccinated. Every year more staff are choosing this safe, effective vaccination and they know it helps to protect them, their families and their patients.

Staff and managers within the NHS are doing a great job on this campaign and are very engaged with it. Their local projects to raise awareness and improve access to vaccinations are energetic and creative, and should inspire others both inside and outside the health service.

It is of course concerning that a large number of NHS staff are still either not choosing to be vaccinated or not finding the time to have it done, but the improving figures speak for themselves and planning is good both nationally and locally.
For most healthy people, flu is an unpleasant but usually self-limiting disease with recovery taking up to a week. However, older people, the very young, pregnant women and those with a health condition (particularly diabetes, heart disease, chronic respiratory conditions such as asthma, or those with a weakened immune system) are at particular risk from the more serious effects of flu. These people are urged to take up a free flu vaccination from their GP.
Ends
Notes to editors
Read the figures for the uptake of seasonal flu vaccine in healthcare workers for the 2014 to 2015 flu season, available at national, NHS area team and NHS Trust level for the period of 1 September 2014 to 31 October 2014.
Public Health England exists to protect and improve the nation's health and wellbeing, and reduce health inequalities. It does this through world-class science, knowledge and intelligence, advocacy, partnerships and the delivery of specialist public health services. PHE is an operationally autonomous executive agency of the Department of Health.
Further information about flu fighter is available from the NHS flu fighter website.
PHE Press Office, infections
61 Colindale Avenue
London
NW9 5EQ
Published 20 November 2014