Press release
More junior officers honoured with Queen's Police Medals
Over half of the Queen's Police Medals have been awarded to officers below the rank of superintendent.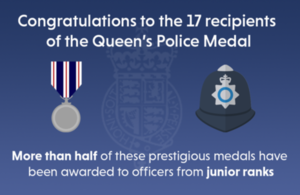 Nine rank and file police officers have been awarded the prestigious Queen's Police Medal by Her Majesty The Queen as part of her New Year's Honours – 3 times the number honoured in the 2016 Birthday Honours.
In one of her final actions as Home Secretary, Prime Minister Theresa May recommended that more officers below senior ranks should receive the Queen's Police Medal, to recognise the vital role they play in protecting the public and address an imbalance over to whom the medal is awarded.
Police leaders responded by putting forward a number of officers from junior ranks from across England and Wales who have shown outstanding courage and distinguished service in the line of duty. More than half of the 17 Queen's Police Medals announced today have been awarded to officers below the rank of superintendent.
Home Secretary Amber Rudd said:
These deserving recipients of Queen's Police Medals have gone above and beyond the call of their duties and it is absolutely right that we recognise all of those who serve our communities and keep us safe.

I am especially pleased by the response from policing leaders, who have made sure that a shift in nominations has led to a much more representative group of officers receiving the medal. I look forward to seeing many more brave and talented individuals at every rank of our police forces being honoured in this way in the future.
The Queen's Police Medal was instituted by its royal warrant in 1954 and is awarded to officers of any rank for acts of courage and conspicuous devotion to duty. It superseded the King's Police Medal, which was originally created in 1909.
Minister for Policing and the Fire Service Brandon Lewis said:
There are exceptionally skilled, dedicated and professional officers in all areas of our police forces, from frontline constables to senior leaders. Honours such as the Queen's Police Medal have been awarded for over 100 years to recognise some of their exceptional individual contributions.

I am delighted that more rank and file officers have been awarded the medal this year, for dedication to their duties and acts of exceptional courage. I hope the example they have set continues to inspire the very best from officers and police staff in 2017.
The recipients of the Queen's Police Medal are:
PC Ifor Williams (Avon and Somerset Police)
Sergeant Timothy Slade (City of London Police)
PC Jacqueline Oliver (Metropolitan Police Service)
Chief Superintendent Martin Lloyd Fry (British Transport Police)
PC Leslie Roger Eke (Thames Valley Police)
PC Christopher Smith (Dorset Police)
PC Louise Pye (Sussex Police)
PC Shirley Vivienne Lindsay (Avon and Somerset Police)
Inspector Ian David Hanson (Greater Manchester Police)
Detective Inspector Carol Ellwood (Humberside Police)
Chief Superintendent Gordon Briggs (Metropolitan Police Service)
Chief Superintendent Victor Olisa (Metropolitan Police Service)
Chief Superintendent Jagdev Singh Atwal (Derbyshire Constabulary)
Assistant Chief Constable David John Allard (Ministry of Defence Police)
Temporary Assistant Chief Constable Angela Williams (West Yorkshire Police)
Commander Simon Martin Letchford (Metropolitan Police Service)
Chief Constable David Graham Jones (North Yorkshire Police)
Published 30 December 2016